Mon, 24 August 2020 at 7:03 pm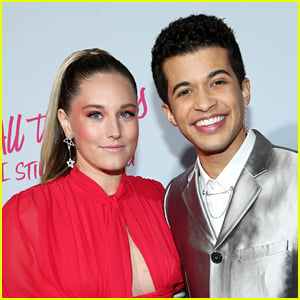 Jordan Fisher is opening up perfectionism and being a good partner and father.
The 26-year-old entertainer dished in a new interview about building his tribe with fiancee Ellie Woods.
When asked what his fault is, Jordan shared that he is a perfectionist and that's something he will have to relinquish a bit to be a good family man.
"I'm a number three on the Enneagram scale. If you know anything about the Enneagram scale and threes, we are people driven by success and the perception of it," Jordan told FAULT magazine. "That has ultimately made me the perfectionist that I am, but I don't think it's fair to myself or to anybody else who has to live with my perfectionism. To project it onto a younger generation or my peers is not fair. I need to the hardest working person in the room, but I also need to be viewed that way; I think that has its strengths, but I also know first hand that there are a lot of weaknesses to that – but therapy is great for a lot of reasons!"
"I know I have to relinquish perfectionism. I have a very tight circle which I call my tribe because they make me feel happy. Ellie and I are building our tribe, having kids and everything, and I have to let perfectionism go to be a good partner," Jordan added.
"I want to protect the things that I love most, whether it's my people or it's my projects and I'm not always going to be successful at that, but I'm for sure going to try my hardest. I think that relinquishing control and relinquishing perfectionism is only going to be for the best," he said.
Like Just Jared Jr. on FB