Fri, 28 August 2020 at 4:26 pm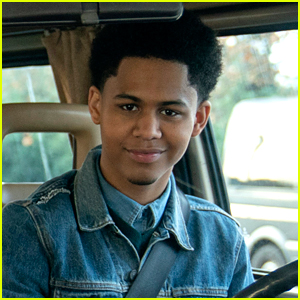 Meet Rhenzy Feliz!!
The 22-year-old actor stars as Ty in the new Netflix movie All Together Now, the love interest of Auli'i Cravalho's Amber.
Here's a synopsis: Based on the Matthew Quick YA novel Sorta Like A Rock Star, the film is about an optimistic high schooler with musical aspirations who must learn to accept help from her friends to overcome her personal hardships and fulfill her dreams, and find hope in the darkest of times.
All Together Now is now streaming on Netlfix!
You may also recognize Rhenzy from his lead role of Alex Wilder in Marvel's Runaways, or his roles in Hulu's Casual and the final season of Teen Wolf.
JJJ got to know Rhenzy a little more personally with our exclusive 10 Fun Facts feature. Check it out below!
1. Growing up (and basically all my life) I played baseball, until I started acting. Being Dominican I didn't really have a choice, I had a baseball in my hand before I could walk but I learned to love it! However, around the time I turned about 16 or 17 I started losing the love and passion a bit. It scared me because for so long it was all I knew. But I was getting to the age where you have to decide what it is you want to do for college and I'm grateful that was around the same time I found acting.
2. I didn't start acting until I was 17! I think that deep down I'd always wanted to but was too afraid of what people might say. My mom gave me a good kick up the bum and that's when I got the courage to quit baseball and try out for the school play, which ended up being the best decision of my life so far.
Click inside to find out more about Rhenzy Feliz…
3. I moved to L.A. when I was 15 years old. Not for acting or anything entertainment wise. My mom and step-dad had visited L.A. as a mini vacation/job interview and loved it. Right when they got back from their trip they asked me if I'd want to go. I had just finished up my freshman year at a new school that I kind of hated and my best friend had just moved to L.A himself so I was READY to go! We ended up leaving that summer and got to L.A. with no jobs, no friends, no place to live and just enough money to make it work. And my parents did. Thank God because a couple years later I'd find my passion and there couldn't have been a better place than Los Angeles to be.
4. I met my best friend when I was 15 about a month after I got into L.A. and he's like a brother of mine to this day. He spent most of quarantine at my place and I'm not mad about it. We got a good thing going :)
5. I did 2 background jobs before I had an agent. I was so wide eyed on set and LOVED every second of it. The cameras, the director giving notes, the actors having fun, the PA's scrambling around on their walkies, wardrobe, EVERYTHING! I instantly had the feeling, "I need to do this for the rest of my life."
6. I was in 2 plays and 1 musical in high school. I was a junior when I got into the drama department and we would do a fall play and a spring musical. We did House of Blue Leaves by John Guarre my first fall and that spring we did Wizard of Oz, which I was definitely not going to sign up for but again got a gentle but firm nudge in the bottom from Mama (and by that I mean she absolutely made me audition). I ended up getting Scarecrow which told me a lot since I KNEW I'm no Adele. It gave me a lot of confidence which I really think helped me along my way to decide to do this. The other was my Senior year fall play Clybourne Park, and I loved that show! By then I had already wanted to stretch out into bigger pools and hounded around for an agent. I got one during the run of our show (when I say run, I mean a couple weekends) and never looked back since.
7. I'm almost positive I know 95% of every lyric in Hamilton; I'm a very big fan and willing to prove it to anyone who dares sing with me ;)
8. I got an agent soon after turning 18 years old. Since then the longest stretch I've gone without working is this quarantine so.. I feel like that's a good sign that I made a good choice. Of course, there's still a lot of time left for me to be wrong on that but I'm really hoping I'm right.
9. I'm very passionate about watching movies in the most optimal experience possible. Meaning you will catch me at a movie theatre every weekend. If that means I have to go alone because no one wants to see Waves again then that's what that means. My life goal is to have a home theatre. If I've done that just know, in my head I've made it.
10. I listen to classical music regularly. On car rides home, on walks with myself, when typing up 10 facts about myself :) Often!
Like Just Jared Jr. on FB