Wed, 02 September 2020 at 1:42 pm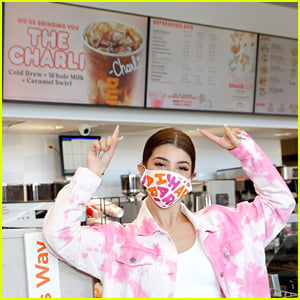 Charli D'Amelio has teamed up with Dunkin' Donuts!
The 16-year-old TikTok star, who has been a huge Dunkin' fan for forever, now has her very own drink on the menu called "The Charli".
"rumors are swirling… teehee ~ 9.2.20. 😜 #ad," Charli teased on Instagram on Monday.
"DREAMS DO COME TRUEEE!! can't believe 'The Charli' is on the @dunkin menu –my fave–a medium cold brew with whole milk and caramel swirl. get it on the Dunkin' app!! link in bio. #CharliRunsOnDunkin #ad," she added after the news was revealed.
"The Charli" consists of a medium Dunkin' cold brew with whole milk and three pumps of caramel. The drink will be added to menus across the US and available in the Dunkin' app for a limited time.
"Everyone knows that Charli runs on Dunkin', and now Dunkin' runs on Charli," Drayton Martin, Vice President, Brand Stewardship at Dunkin' said in a statement. "This is the partnership fans have been rooting for since Charli first danced onto TikTok with her Dunkin' Cold Brew in hand. Charli is one of our biggest fans and the feeling is mutual. We're thrilled to finally make it official and make it easy for people to run on Dunkin' just like Charli."
FYI: Charli is wearing a boohoo jacket.
Like Just Jared Jr. on FB