Fri, 11 September 2020 at 6:31 pm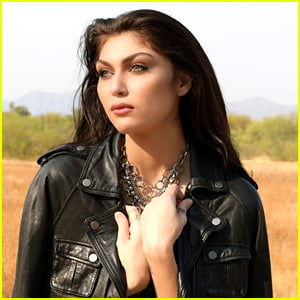 Julia Rizik is a singer on the rise that you should definitely keep your ears glued to.
The 20-year-old singer actually just celebrated her birthday yesterday. Happy belated birthday Julia!
Julia started her singing career in the country music genre but has transitioned into the pop scene.
She's been working on new music throughout quarantine and is getting ready to release new music soon. Check out her previously released tunes on Spotify here!
In addition to music, Julia is a passionate supporter of Musicians on Call, and has previously volunteered to go around different floors of the children's hospital and perform at patient's bedsides. She also raises awareness about animal cruelty and is against zoos and makeup testing on animals.
JJJ got to know Julia Rizik with 10 Fun Facts. Check it out below!
1. I have 3 older sisters. I'm the youngest of an all-girl family which can be kind of wild sometimes. I've always idolized each of my sisters in a different way.
2. I graduated high school early. I was so focused on music when I was in school that I never wanted to show up to my classes so I decided to take my junior and senior year classes at once and graduated a year early.
3. I'm SUCH an animal lover. I used to want to be a veterinarian when I was younger. My dog, Dude Man, is the center of my world, I treat him like he's my child.
4. I'm currently learning how to speak french. I've always been obsessed with French culture and my dream is to go to Paris, so I've been learning how to speak french for when I finally go.
5. I'm really into environmentalism. I became fascinated by learning about the environment when I was in high school. We had to watch a documentary on how hazardous plastic is for our environment in science and it really moved me.
Click inside to learn more about Julia Rizik…
6. I take time out to meditate every day. I've always been a bit of an anxious person so meditating really helps me calm down. I turned a part of my room into a "mediation corner".
7. I'm a Virgo, which makes a ton of sense because I'm super emotional but also analytical at the time. Shout-out to all the Virgos!
8. My first instrument was the piano, and it will always be my happy place. for me, there's nothing better than just sitting at the piano & writing songs.
9. I wrote my first song when I was 12 years old and I've written almost 600 songs since then. I swear I get inspired so easily and write about everything I see.
10. I think Adam Sandler is one of the coolest, funniest dudes around and I'm scared if I met him one day that I would freeze and not know what to say because I love him so much. That happened to me once when I met Mark Wahlberg, I literally could not speak. AWKWARD.
Like Just Jared Jr. on FB