Mon, 21 September 2020 at 4:41 pm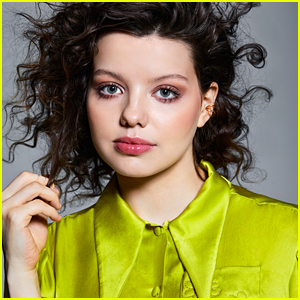 Chloë Levine hit the screen recently in the new season of Trinkets!
The young actress stars as Jillian in the second and final season of the Netflix series, who is Elodie's new love interest.
If you didn't know, season two of Trinkets premiered on the streaming platform last month. You can watch the trailer here!
You may also recognize Chloë from her role as Angie on another Netflix series – The OA. She also had a guest starring role in an episode of The Society.
Next up for the actress are the projects Alaska, Froth and Bubble, and Antarctica. Be sure to keep on the lookout!
JJJ got to know more about Chloë with 10 Fun Facts. Check them out below:
1. I am from New Jersey, and am very proud of it. I moved to NYC when I was fourteen and although I love being a New Yorker, I still miss Jersey.
2. I was a member of Civil Air Patrol when I was a teenager. At one point I wanted to join the Air Force.
3. I went to Sarah Lawrence College and was studying a bunch of different things, mainly literature and philosophy, before I dropped out for a film.
4. I make my own movies too. I won best experimental for my short DRAGON at the "My City, Our Story" portion of Tribeca Film Festival in 2014.
5. I skateboard! Got some scars to prove it.
Click inside for more fun facts…
6. I am double jointed in most of my joints. It's a weird family trait from my Grandma.
7. I love drawing and spray painting. Although it's a little more difficult to find the right place for the latter.
8. My favorite meal is corned beef and cabbage.
9. I didn't go to my middle school graduation as a protest.
10. The shore is my favorite place, however, I'm not a big fan of the sun. So, my favorite thing is to drive during night and get there at dawn.
Like Just Jared Jr. on FB