Tue, 13 October 2020 at 7:33 pm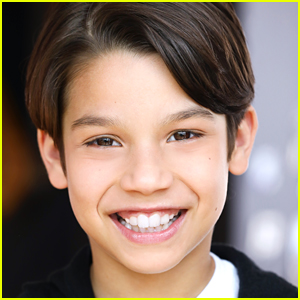 Evan Whitten is starring in a brand new show on Fox!
The young actor stars as Ethan Salazar on the new series Next, which airs on Tuesdays on the network.
Here's a synopsis: Silicon Valley pioneer Paul LeBlanc discovers that one of his own creations — a powerful A.I. called neXt — might spell doom for humankind, so he tries to shutter the project, only to be kicked out of the company by his own brother, leaving him with nothing but mounting dread about the fate of the world.
When a series of unsettling tech mishaps points to a potential worldwide crisis, LeBlanc joins forces with Special Agent Shea Salazar, whose strict moral code and sense of duty have earned her the respect of her team.
Now, LeBlanc and Salazar are the only ones standing in the way of a potential global catastrophe, fighting an emergent superintelligence that, instead of launching missiles, will deploy the immense knowledge it has gleaned from the data to recruit allies, turn people against each other and eliminate obstacles to its own survival and growth.
Ethan was previously on FOX with a recurring role on the series The Resident, as well as a recurring role as a young Rami Malek on USA Network's Mr Robot. He's also been on Penny Dreadful: City of Angels, The Rookie and Nicky, Ricky, Dicky & Dawn.
JJJ got to know the young actor ahead of the series' second episode, which airs TONIGHT (October 13) at 8pm ET/PT on Fox. Check out Evan Whitten's 10 Fun Facts below:
1. I have two younger brothers, Levi and Lincoln, and we make up our own games, songs, and comics together.
2. I love to write, and have written several books. The book I am currently working on is called "Superbrothers." Someday I hope to turn my books into movies.
3. I have loved and studied prehistory and paleontology since I was four years old.
4. When I grow up I want to continue acting, be an author, a paleontologist, and a detective.
5. I love going to Six Flags Magic Mountain and Universal Studios, and riding the biggest and scariest rides.
Click inside to see more from Evan Whitten…
6. My favorite food is my Nana's (grandmother's) Mexican food, especially albondigas, pozole, and homemade corn tortillas.
7. I love reading "Harry Potter" with my dad.
8. My favorite band is Third Eye Blind.
9. My favorite athlete is LeBron James.
10. I love acting and I'm always ready for the next adventure!

'Next' Trailer
Like Just Jared Jr. on FB