Thu, 15 October 2020 at 5:53 pm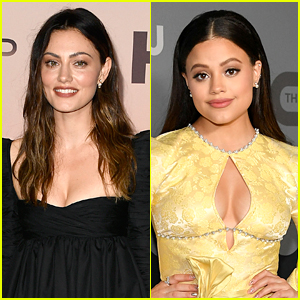 Phoebe Tonkin is sending support to Sarah Jeffery after her Twitter exchange earlier this week about the Charmed reboot.
If you missed it, a video went around of original Charmed stars Holly Marie Combs and Rose McGowan laughing and saying the new reboot "sucks."
Sarah then retweeted the video and said that it was "sad and quite frankly pathetic to see grown women behaving this way."
Roswell, New Mexico creator Carina Adly Mackenzie shared a long Twitter thread about reboots, and she mentioned that the showrunners of the Charmed reboot could have asked the original stars to come be a part of the reboot, but they were slamming the series from the get go.
"The whole 'how dare they not invite us to be a part of it' thing — uhhh, maybe because you were publicly shitting on it from the moment it was announced? Maybe if you'd waited five minutes they would have found you a great, fun way to be a part of it!" Carina wrote.
"We had so much fun finding the right ways for Shiri [Appleby] and Jason [Behr] to be a part of the new Roswell! Would I have done that if they'd condemned my project before I even shot the pilot? Uh no, I would not have … Man, I am so grateful for the kindness shown to me by members of the original Roswell cast, who I idolized when I was 12, and for the wisdom and artistry and power they've contributed to the reboot."
Phoebe saw Carina's thread, retweeted one of her tweets, and said she was inspired by Sarah's response.
"This! @sarahjeffery I am so inspired by your class and elegance. I myself have been on a show that has been rebooted (not a few years after I filmed it!) and was nothing but excited and proud of the next generation of Mermaids to experience the world of H20. #charmed," Phoebe wrote.
If you didn't know, Phoebe's career started on the series H2O: Just Add Water, and a year after the show ended, a spinoff was announced called Mako: Island of Secrets, then a few years later an animated H2O premiered on Netflix.
This! @sarahjeffery I am so inspired by your class and elegance. I myself have been on a show that has been rebooted (not a few years after I filmed it!) and was nothing but excited and proud of the next generation of Mermaids to experience the world of H20. #charmed https://t.co/5Vtf7E4MSc

— Phoebe Tonkin (@1PhoebeJTonkin) October 15, 2020
Like Just Jared Jr. on FB