Fri, 16 October 2020 at 5:56 pm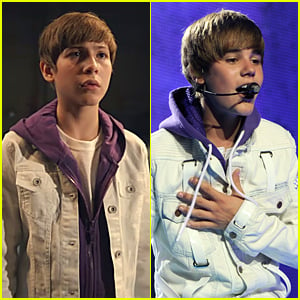 Jacob Tremblay is dishing on portraying a younger Justin Bieber!
The 14-year-old actor played the 16-year-old version of Justin from his My World Tour in 2010-11 in the "Lonely" music video.
"I just wanted to really make Justin proud, and do a good job to portray the feelings he wanted me to," Jacob said in an interview with ET Canada.
"It definitely feels really weird to say it, because it just sounds like it shouldn't be happening but, I am in a Justin Bieber music video, which is something I would have never seen coming," he added to The Loop. "I ended up getting a text message from Justin Bieber asking if I had any questions, which I did — I had a lot of questions."
"So we kind of organized that we would call each other some time, but we didn't really get an exact time, so he ended up calling me when I was in the grocery store… I was like, to my parents, 'I have to go outside because Justin Bieber's calling me,'" Jacob continued.
"I had actually never played a real person before," he said. "I've always played made-up characters, so I just really wanted to make sure that I had the feelings of the song and how Justin wanted me to feel. I really got to understand — it's a bit more of a serious song but I'm really excited for people to hear it, so they can see the story. It's really good."
Like Just Jared Jr. on FB