Fri, 16 October 2020 at 7:49 pm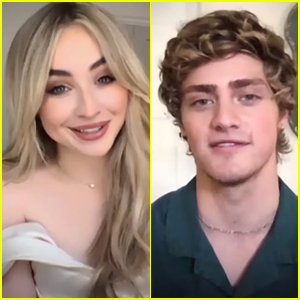 The cast and crew are sharing their thanks to the real life Zach Sobiech.
In a touching new video, stars Sabrina Carpenter and Fin Argus, and director Justin Baldoni thank the late Zach, who inspired their new Disney+ movie Clouds.
"Dear Zach, thank you for allowing me to fill some very big shoes, and giving me the opportunity to play such an inspiring young individual as yourself," Fin says.
"Thank you so much for bringing me a group of people in my life that were really, really necessary, and were so inspiring and so brilliantly talented," Sabrina started off. "Thank you yourself for being so brilliantly talented."
"Thank you for trusting me. Thank you for letting me tell your story and thank you for never leaving me alone as I told it," Justin shared. "Thank you for touching the hearts of every person on that set, for working your magic through our incredible cast, and for going through everybody around me to get to me when I wasn't listening to what you were telling me. I appreciate you and I hope I did you proud."
Zach passed away back in 2013 from his battle with osteosarcoma, a bone cancer. Before he died, Justin actually got to meet him and spend time with him, having featured him in his series My Last Days. See more from Justin in another video below.
Clouds is now streaming on Disney+!

The Cast and Crew of Clouds Thank Zach Sobiech

Justin Baldoni's Promise | Clouds
Like Just Jared Jr. on FB