Thu, 22 October 2020 at 6:31 pm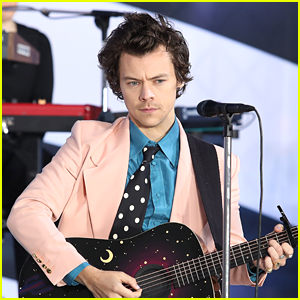 Looks like Harry Styles is preparing for being off stage for much longer.
The 26-year-old had to postpone his world tour this year because of the pandemic, and rescheduled to the spring and summer of 2021.
Now, it looks like he might postpone it again until the end of 2021 or even longer.
In a recent interview, Stevie Nicks opened up about about a conversation they had about performing live.
"He said to me, 'I don't think we will walk onstage again, Stevie, until the end of 2021, if then.' And I'm going, 'Oh, my God, this very, very young man is telling me this sage idea he has in his head.' It was that phone call between a really fantastic artist in his twenties and me, in my seventies, going, 'We as a music community of entertainers are screwed. Our lives as we know it is over,'" Stevie told Rolling Stone.
"The problem is we're all hoping that some magical thing comes down and just cures all, like the president thinks is going to happen, but it's not going to," she added. "We know that. We have to dance around it and figure out what to do in the meantime."
If Harry ends up not touring, he still has a couple of films lined up. He recently started production on Don't Worry Darling with Florence Pugh, and he's set to star with Lily James in My Policeman.
Like Just Jared Jr. on FB