Mon, 02 November 2020 at 6:11 pm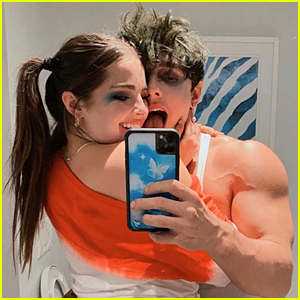 Addison Rae and Bryce Hall are sharing some of their Halloween photos from over the weekend!
The two got pretty close as they dressed up as The Joker and Harley Quinn.
"crazier," Addison captioned her post, which sees her cuddled up with her arms around his neck.
"J + H," Bryce wrote with his post.
The day before, Addison took to Twitter to share a message with fans.
"remember, the internet only allows u to see and know what is posted on it!!! u could be missing a lot of information, so always keep that in mind when forming an opinion on someone u don't know," she wrote.
"this is referring to my friendships, relationships, and everyone & theirs too! just remember we're human, don't guilt others in making a decision for their life that you wish they would. we really should all be nicer. i don't understand how people allow their hearts and mind to go to evil and dark places to the point where they can hate/degrade someone they don't truly know. anyways, i love y'all!! happy monday ❤️❤️❤️✨✨," she commented on TikTokRoom about the post.
Addison also added about her tweet, "this was referring to bryce & i :)"
Addison and Bryce seemingly cooled things off between them towards the end of summer, but recently picked back up as they were seen leaving a restaurant together in mid-October, and they posted a few Instagram stories together.
Like Just Jared Jr. on FB