Tue, 10 November 2020 at 5:04 pm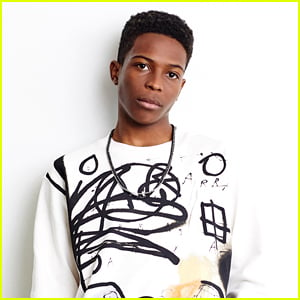 Dante Brown is starring in the new series Dash & Lily!
The 21-year-old actor plays Boomer, Dash's (Austin Abrams) best friend, who works at the pizza parlor, a staple location throughout the eight episodes.
Boomer's easygoing nature and unsinkable enthusiasm makes him an unlikely BFF to Dash. Full of big ideas and plans (often concocted from behind the counter of the pizza parlor/video store where he works), he's a loyal friend and a good listener who's always down for adventure.
Here's a synopsis for Dash & Lily: A whirlwind Holiday romance builds as cynical Dash and optimistic Lily trade dares, dreams, and desires in the notebook they pass back and forth at locations all across New York City, finding they have more in common with each other than they would have expected.
You may recognize Dante from one of his many roles, including Fox shows 9-1-1 and Lethal Weapon, Mr Robinson, and even Henry Danger!
Be sure to check out Dash & Lily, now streaming on Netflix, and get to know 10 Fun Facts with Dante Brown below!
1. My brother, Dusan Brown, and I, will both have projects airing on Netflix, at the same time!
2. Damon Wayans told me rather than waiting for your lead role, create your own. So I co-wrote a coming of age feature film. It's fire.
3. Back home in Chicago, I was a member of The Harvey Twisters Wrestling Club and was ranked #1 in the nation in 3rd or 4th grade.
4. I'm a huge anime fan and started creating animated shows in high school. Hoping to find a network for them, soon.
5. I produce, engineer and rap, as well as write songs for other artists.
See more fun facts inside…
6. I experience a certain feeling of freedom when driving my Audi on the highway… I'm really a race car driver at heart.
7. My favorite book is "The Haters" by Jesse Andrews – huge fan of his work.
8. I coined the phrase "Rappies" for my friends and music fans.
9. Like Donald Glover goes by Childish Gambino for his music, I go by Dante Brown and DanteThePoet.
10. I hate cake but I love cupcakes… I know… interesting.
Bonus: I'm from Chicago and used to go trick or treating at The Obama's house, before President Obama became Senator.
Bonus: I consider myself an OG, although my career is just getting started. I've been in the industry since I was 2 and half years old. (lol)
Like Just Jared Jr. on FB