Fri, 27 November 2020 at 4:41 pm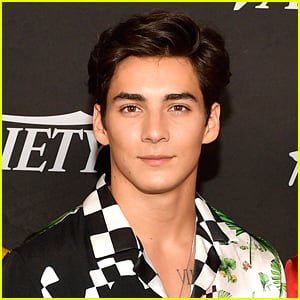 Chance Perez is opening up about playing Black Ranger in the upcoming Power Rangers Dino Fury series!
The 23-year-old singer was revealed to be playing the character back in October, and is now in New Zealand filming the show.
"Life's good, working from Sunday to Thursday, from five am to six or seven pm. Long days as a Power Ranger, but I wouldn't have it any other way," he told 102.7 KIIS FM.
"It's great. I always wanted to be a Power Ranger as well. I think, I mean, who didn't. You know, growing up everyone was watching Power Rangers and they've been making it since 1993 and it's 2020 now, still making Power Rangers," Chance added. "To be a part of the franchise is indescribable for me. I really love being here. I've always wanted to be a Power Ranger in my life and now that I actually get to do it, it fills this hole in my heart that was you know, my childhood dream."
"I had only started pursuing acting for like a short while, and I'd only done maybe four auditions ever, so when the Power Rangers thing came around, I was like, 'Well, I mean, I'll give this a shot. I don't have any acting experience, but you know, I'd rather try than just let it pass me by,'" Chance said. "So, I gave it a shot and I got a call back."
"They had me send in another self tape and then after that, they asked me to meet them in Marina Del Rey. I met Chip, one of the producers who's been writing on the show since early 2000s, and then I got one more zoom call, and then a week after that, I got a phone call from my manager Joby, and he was like, 'Oh my god, I'm talking to the black Power Ranger!' I originally thought I was going to be the yellow Power Ranger, which would have been cool still, but the black Power Ranger is where it's at."
"We have to finish 44 [episodes], so it's going to be a lot of work. We're going to be working like over time for a lot of the days, but it's going really smoothly, production is going really smoothly, and filming is going great," he added about the work load.

Chance Perez Talks Being a Power Ranger
Like Just Jared Jr. on FB