Fri, 18 December 2020 at 7:00 pm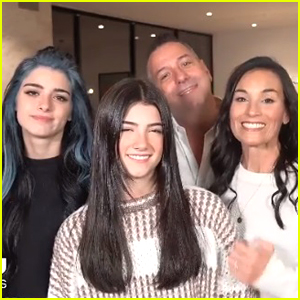 The D'Amelios have launched their very own family Instagram account!
Charli, Dixie, Heidi and Marc's new page is dedicated to their upcoming Hulu reality series, The D'Amelio Show.
For their first post, they shared a video announcement, saying, "We are so excited to announce that we have an original series coming to Hulu in 2021. We can't wait to share our lives with you all. And show you our day to day in LA. And we can't wait for you all to get to know us better."
The official announcement of their new reality series was made on Friday morning. Find out more here!
Earlier this fall, Dixie opened up about the show and what it will be like having cameras around.
"I feel like it's going to be nice having cameras that we know are there because sometimes we don't even know when we're being filmed," she said during a radio interview in October.
"I think it's going to be more like, 'This is our lives and what we do,' because people don't get to see that. They just think we make TikToks and sit around all day. It'll be showing our daily lives, how busy we actually are, what we're doing," Dixie told Euphoria magazine in November.
"Now that we're doing the reality show, people are like, 'Oh, is it going to be like the Kardashians? Are you guys going to be fighting and all this?' I'm like, 'Probably not.' We just want to show our lives," she added.
No specific release date has been set yet, but The D'Amelio Show will premiere on Hulu in 2021.
Like Just Jared Jr. on FB