Wed, 23 December 2020 at 4:21 pm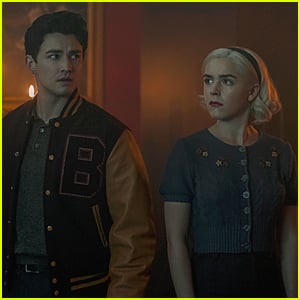 Kiernan Shipka and Gavin Leatherwood are dishing on the series finale of their show Chilling Adventures of Sabrina!
Without giving any spoilers, the actors shared their thoughts on the ending the show got.
"There were different versions of the script depending on if it was a finale or not, but the shot that we ended up going with, the second that I read that I was like, 'Oh, that's the end,'" Kiernan told ET. "I know we could keep going and I know we could make something out of it, but my gosh is that an ending. And I was just like, 'Got it, that's it.'"
"I think [fans] are going to be overwhelmed with emotions, because I was and I would think that they would think similarly," she continued. "I think everyone will be happy with it but also a little surprised. I was surprised. It's not a predictable ending and I really didn't see that coming in any way, shape or form. It does wrap things up, but it certainly does not leave you fully satisfied — in a good way."
Gavin had a much shorter response, but thinks it's a great way to end the show.
"You know what? How kind of beautiful. What a great send off and interesting, Shakespearean kind of thing to do," he said.
Head to ETOnline.com to see more cast reactions to the finale!
If you missed it, see which stars are making a (not so) surprise appearance in the upcoming final season, and be sure to also watch the trailer. CAOS part four debuts on New Year's Eve, December 31st, on Netflix.
Chilling Adventures of Sabrina, as well as some of it's stars, is nominated for multiple 2020 Just Jared Jr Fan Awards, including Favorite Actress, Favorite Actor, Favorite Drama TV Series and Favorite TV Cast. Be sure to cast your votes for CAOS!
Like Just Jared Jr. on FB