Thu, 31 December 2020 at 11:31 pm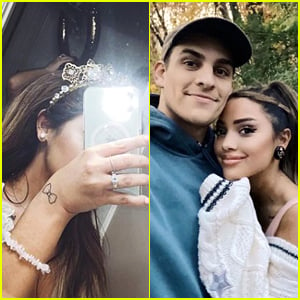 Gabi DeMartino ended 2020 by sharing the best news – she's engaged!
Just before midnight, the 25-year-old YouTuber announced that her longtime boyfriend Collin Vogt popped the big question, back on Thanksgiving.
"on thanksgiving 2020, my life changed forever. here's to going public. new video on channel. forever can never be long enough for me to feel like ive had long enough with you. 5 years and forever," Gabi wrote on Instagram.
"it's official. as long as i have, my Romeo," she added on Twitter.
"For those who don't already know, Gabriella and I got engaged on Thanksgiving and we have kept it to ourselves until now! I'm so happy to start this new year off perfectly with the girl of my dreams! I'm so excited to spend the rest of my life with her and I'm so excited for our journey! Till death do us part ❤️💍," Collin shared on his Instagram.
Gabi uploaded a cute video on her YouTube channel, with the title, "this happened on thanksgiving & im finally telling you." She also posted the date "11.26.20″ in the description.
The video is a video montage of their years together, set to her new song "Romeo." At the end, it says, "we welcome the newly engaged couple, soon to be Mr & Mrs Vogt 11.26.2020″.
Congratulations Gabi and Collin!
In other good news, Gabi and her twin sister Niki recently won the Favorite Social Star of 2020 at this year's Just Jared Jr Fan Awards!
Like Just Jared Jr. on FB