Wed, 20 January 2021 at 7:40 pm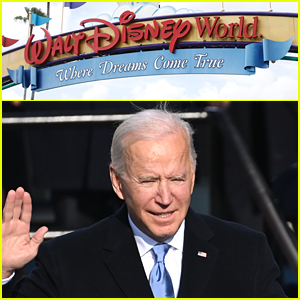 Joe Biden will soon be seen at Walt Disney World!
The Orlando Disney theme park is adding the 46th President to it's "The Hall of Presidents" attraction in Liberty Square.
The attraction is currently closed for refurbishments, and a WDW spokesperson confirmed on Wednesday morning (January 20) that they are adding the newly sworn-in President to the attraction, according to the Orlando Sentinel.
This isn't surprising as each new president gets a new animatronic figure in the attraction, which shows every president in the country's history.
Here's a rundown of the 25-minute show: "Take your seat in the stately theater, home to 3 massive digital projection screens and a grand proscenium. Watch an original film—developed by a Pulitzer Prize-winning historian—that tells the dramatic story of the nation's founding.
Learn about the formation of our Constitution and the hard-fought struggles along the way—such as the American Revolution and the Civil War. Listen to the stirring words of John F. Kennedy echo through the theater and watch Abraham Lincoln—in attendance on stage—deliver his Gettysburg address."
You will then "watch the curtain rise to reveal startlingly realistic Audio-Animatronics replicas of every President of the United States—together for the very first time. Hear speeches delivered by George Washington and the newest addition to the Hall, 45th President Donald J. Trump."
Watch a behind-the-scenes video of the attraction here!

Walt Disney World Hall of Presidents
Like Just Jared Jr. on FB