Mon, 01 February 2021 at 3:19 pm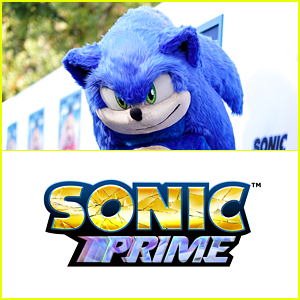 Sonic The Hedgehog is getting a brand new animated series called Sonic Prime!
The upcoming 24-episode show will premiere on Netflix worldwide in 2022.
Sonic Prime "draws upon the keystones of the brand and features the 'Blue Blur' of video game fame in a high-octane adventure where the fate of a strange new multiverse rests in his gloved hands. Sonic's adventure is about more than a race to save the universe, it's a journey of self-discovery and redemption."
"Sonic is a beloved character and holds a special place in everyone's heart including my own," Dominique Bazay, Director of Original Animation, Netflix, said in a statement. "I spent many hours with the blue blur as a kid and it's a privilege to be able to bring this character everyone knows and loves on a brand new adventure with Netflix — one that a generation of loyal fans and brand new fans around the world can enjoy."
This news comes just after it was revealed that the longtime voice of the Sonic character, Roger Craig Smith, will no longer continue voicing the iconic hedgehog.
"For over 10 years, Roger Craig Smith has been an integral part of the SEGA family. He brought the voice of Sonic to life, and we are forever grateful for his never-ending enthusiasm in helping the community and spreading joy," the official Sonic Twitter account shared. "Thank you, Roger, for all you've done for Sonic."
"I'm really gonna miss those shoes… Thanks so much! What an incredible honor to have voiced an icon of gaming that so many of us have grown up with. Cannot wait to see what the Blue Blur has in store and thanks for trusting me with Sonic's pipes for so long. SONIC SPEED!" Roger replied.
"Welp, 10 years was an amazing run. Onward to new zones! Much love to the fans who've been so kind," he wrote on his own Twitter.
Roger has voiced Sonic in the video games Mario & Sonic at the Olympic Games: Tokyo 2020, Team Sonic Racing, Super Smash Bros. Ultimate, Sonic Forces, Sonic Boom: Fire & Ice, Sonic Runners and more.
He's also voiced the character in the TV series Sonic Boom and OK K.O.! Let's Be Heroes, as well as the movie Ralph Breaks The Internet.
For the recent Sonic The Hedgehog movie with Jim Carrey and James Marsden, the voice of Sonic was played by actor and comedian Ben Schwartz. No word yet on who will voice Sonic in the upcoming Netflix series.
I'm really gonna miss those shoes…
🤗
Thanks so much!
What an incredible honor to have voiced an icon of gaming that so many of us have grown up with.
Cannot wait to see what the Blue Blur has in store and thanks for trusting me with Sonic's pipes for so long.
SONIC SPEED!💙

— Roger Craig Smith (@RogerCraigSmith) January 29, 2021
Like Just Jared Jr. on FB