Fri, 05 February 2021 at 5:29 pm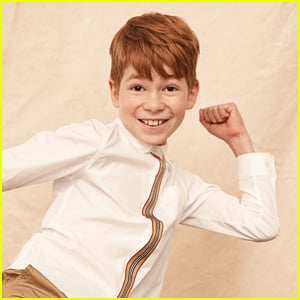 Landon Gordon has been gracing our TV screens for the last couple of weeks in the new Disney Channel series Secrets of Sulphur Springs!
The young actor stars as Wyatt, the fearless, younger brother to Griffin (Preston Oliver) and fraternal twin to Zoey (Madeleine McGraw).
Landon started his career at just six years old with a small role on the late night show Conan. He's also had roles on Coop & Cami Ask The World, 9-1-1, Teachers and American Woman. He'll also be seen in the upcoming movie Top Gun: Maverick!
Tune in to catch Landon on Secrets of Sulphur Springs TONIGHT (February 5) at 8pm ET/PT on Disney Channel, as well as every Friday night.
In the episode, "Time Warped," Griffin and Harper observe as young Ben and Savannah sit around the post-dance campfire when, suddenly, Savannah is spooked by a counselor dressed as the legendary Moss Man.
JJJ got to know more about the Landon Gordon with 10 Fun Facts! Check them out below:
1. I workout almost every morning. Being fit is really important to me. I either run laps, take kickboxing, or HIIT classes at least a few times a week. In the summer, I swim everyday.
2. Horror movies are my jam! Of course I'm not allowed to watch every horror movie but a few of my favorites right now are It, Invisible Man, and for a comedy horror, Ready or Not.
3. I'm really competitive and adventurous so one day I plan to be on Survivor or The Amazing Race. My brother wants to do Survivor, too. It would be great to do it together.
4. I'm a pretty good artist. While my sketches are usually spooky SciFi themed, I also like drawing cartoons.
5. Disneyland is one of my all time favorite places on earth. My favorite ride at Disneyland is Space Mountain, and at California Adventure, I always run straight to the Incredicoaster.
Click inside for more fun facts…
6. My favorite dessert is ice cream, like all ice cream. I'll eat pretty much any flavor from vanilla to pecan praline to cookies and cream.
7. I'm right handed, but when I play baseball, I bat left.
8. My favorite music tends to be oldies. Some of my favorite artists are Michael Jackson, Redbone, Frankie Valli & The Four Seasons, Wham and Frank Sinatra. Eclectic right?
9. I'm a dog person. I have an Australian Shepherd named River.
10. I love dancing. I think I'm pretty good, not Dancing with the Stars good, but I have some rhythm. The cast of Secrets of Sulphur Springs took Hip Hop classes in New Orleans. I'm hoping to take more classes in LA.
Like Just Jared Jr. on FB