Tue, 09 February 2021 at 4:43 pm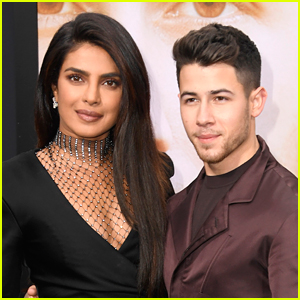 Priyanka Chopra is dishing on when she knew Nick Jonas was the one!
The 38-year-old White Tiger actress shared that it was very early on that she knew he was her guy, and how he's her biggest cheerleader.
"I was just extremely surprised by how secure he is and self-assured he is as a person. I was — I'm the daughter of someone who was my cheerleader, but I'm also married to someone who's my loudest cheerleader," Priyanka said on SiriusXM's The Hoda Show. "Like, Nick — he gets so much joy in the things that I do, and he's watched my movie five times, and he's read the book, and he's my hype guy, and I knew that very early on."
"We were — I remember we were on our third or fourth date — not really a date, it was a group of friends — and we were on a boat on Memorial Day Weekend, and I had this big meeting with my team from India and my team from America having flown down together. And that never happened," she continued. "And I had to go for that meeting and all the friends were like, 'Don't go, its Memorial Day Weekend, who works on weekend?' And I was like, 'Well, if I had a reason to maybe not go, maybe I won't go,' you know? I was trying to be cute and hoping that he would be like, 'Well, I hope you don't go.'"
"After the third time, I behaved completely like an idiot. He pulled me aside, and he looked me dead in the eye and said, 'I'm not gonna tell you to cancel your meeting because I know if you could have, you would have. And if it's a conflict in your heart, I suggest you go take your meeting because you've worked too hard to be here. And what I will do — because I know you have FOMO and you're going to feel like you're missing out — I'm going to take our friends out for dinner and wait for you to come back. Go finish your work.'"
"That doesn't happen. I haven't come across guys who value how much of the pavement I've pounded to get here, you know? And that was one of the big reasons. I love that about him," Priyanka said.
Speaking of Nick being Priyanka's cheerleader and hype guy, he shared his support for her new book, "Unfinished," which was just released TODAY (February 9).
"My beautiful wife @priyankachopra just added PUBLISHED AUTHOR to her already long list of achievements! Unfinished is out now! Congratulations Pri! You are all going to love this book," he wrote on Twitter.
He'll also be part of her virtual book tour on Wednesday (February 10). Find out more at UnfinishedbyPriyanka.com!
If you missed it, see what Priyanka said drives her crazy about Nick.
Like Just Jared Jr. on FB