Tue, 09 February 2021 at 2:12 pm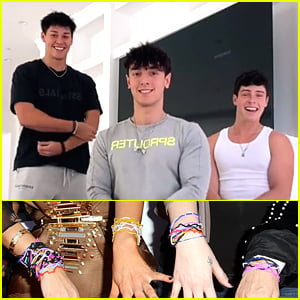 The guys of Sway House have entered into a new partnership with a former super popular product – Sillybandz!
Noah Beck, Blake Gray, Bryce Hall, Griffin Johnson and Josh Richards, along with Marshall Sandman and Talent X Entertainment execs Michael Gruen and Maxwell Mitcheson, have all invested in the relaunch of the fun shape bracelets.
"I'm excited to launch this new partnership with such a personal investment," Josh said in a statement. "I have a great reverence for Silly Bandz and look forward to starting a new chapter for this iconic brand."
"The entire Sillybandz team and I are so excited to join forces with The Sway House and TalentX in making Sillybandz a worldwide phenomenon again," Sillybandz founder Robert Croak added in a statement.
The guys' investment in Sillybandz is also the first time they have invested in something as a group. Bryce and Blake were even seen wearing them in a recent TikTok video!
The Sway House boys are no strangers to investing in products. Josh and Bryce launched the Ani Energy drink brand last summer. Josh is also co-founder of Talent X and he's Chief Strategy Officer of Triller, with Noah and Griffin serving as advisors.
In addition, Josh and Griffin just invested in youth sports network SportsHi, committing $20,000 of scholarship money this year to underserved students.
"I'm excited to invest in a company that is making it easier for students to further their education," Josh said. "With this app, my hope is that more young people will have an opportunity to pursue their academic goals."
Like Just Jared Jr. on FB