Tue, 23 February 2021 at 7:47 pm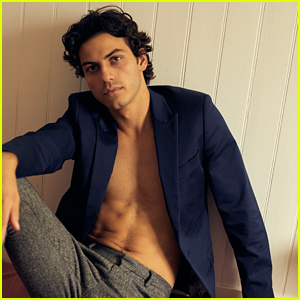 Josh Pyman is one actor we definitely wanted to get to know more about!
The Australian actor currently stars as Dev Ranaweera in the Netflix ballet series Tiny Pretty Things.
Dev is a love interest to one of the lead dancers, Shane (Brennan Clost), and he's also battling with his own sexuality and where his morals lie.
If you didn't know, Tiny Pretty Things is based off the book of the same name by Sona Charaipotra and Dhonielle Clayton, and set in the world of an elite ballet academy and charts the rise and fall of young adults who live far from their homes, each standing on the verge of greatness or ruin.
You can watch the trailer for the series right here!
"Dev is a complicated guy. He's at an age where he's achieving so much and hasn't really had the time to figure out who he is yet," Josh shared about his character with RUSSH magazine. "For myself as an actor, it's always a gift to play roles that people identify with and can be inspired by. As the series progresses, you go on this slow journey of self-discovery with Dev. I really enjoyed going on that journey with him, and working him out in the process.
JJJ got to know more about Josh Pyman with our exclusive 10 Fun Facts feature. Check 'em out below!
1. My first dream job was to be a professional tennis player. I used to play tennis from ages 10-17, playing tournaments all over Australia.
2. One of my favorite hobbies is snorkeling at the beach.
3. The coolest place I've ever been is South Africa. I went there on a cricket tour in 2014 with my school. It was a real eye opener seeing the poverty gap.
4. I lived in Vancouver for two years when I first started acting. It is one of my favorite cities in the world.
5. My mum is a photographer and my dad is a lawyer.
Click inside for more fun facts from Josh Pyman…
6. I am a graduate of Screenwise, Australia's leading film & TV school for actors.
7. Before acting, I went to business school for a year before realizing it wasn't for me.
8. I love to read books. My favorite books of all time are Andre Agassi's "Open" and "The Alchemist" by Paulo Cuelho.
9. I am a huge hip hop fan. My favorite artists are J.Cole, Drake and Juice Wrld.
10. I am the eldest of 3 children. My sister is 21 and my brother is 16.
Tiny Pretty Things season one is now streaming on Netflix!
Like Just Jared Jr. on FB