Tue, 09 March 2021 at 5:39 pm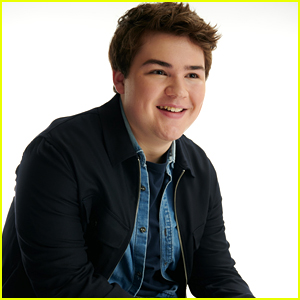 Maxwell Acee Donovan is dishing on some things you may not have known about him!
The 15-year-old actor is best known for his leading role as Wesley on the Disney Channel series Gabby Duran and the Unsittables.
Wesley is a young conspiracy-theorist and Gabby's best friend. If you don't know, the show is about Gabby Duran (Kylie Cantrall), a courageous and resourceful girl who constantly feels like she's living in the shadows of her uber-polished, successful mother, Dina, and whip-smart younger sister, Olivia.
She finally finds her moment to shine when she inadvertently lands an out-of-this-world job to babysit an unruly group of very important extraterrestrial children who are hiding out on earth with their families, disguised as everyday kids. Gabby steps up to the challenge to protect these youngsters and their secret identities, and prove she's the best babysitter in the galaxy.
Before it's series premiere in October 2019, Gabby Duran and the Unsittables received an early season two renewal, and many fans have been anxiously awaiting new episodes. You can check out season one on Disney+ right now!
Watch Maxwell and the cast do the famous wand id here.
In anticipation of season two, JJJ is getting to know Maxwell Acee Donovan with 10 Fun Facts! Check 'em out below:
1. My name, Maxwell Acee Donovan, is a family name, but my mom thought it would be funny and my dad thought it would be cool that I was MAD Max! (Acee comes from the Lebanese side, I am also Greek and Scotch-Irish…)
2. I have lived in 15 different houses over the course of my 15 years on this planet!! All across the country (and Canada!) from Baltimore to Colorado to Phoenix to LA to Vancouver and back!!
3. My mom is an archaeologist, and I think that may be why I love to travel and learn about history. My family is really close…so I have been lucky to have a sister (Clare) to share acting with and parents who are up for just about any adventure with us!
4. Scotland is my favorite place that I have visited thus far – my plan is definitely to go there when I turn 18 to celebrate at "The World's End" pub!
5. My first pet was a goldfish named Maximillian, he honestly lived for over 7 years in just a regular old bowl of water.
Click inside for more fun facts from Maxwell…
6. Before I focused on acting, I loved to play football; I always thought I would try to make it into the NFL! I was pretty good as a wide receiver and linebacker!
7. I attend the Los Angeles County High School for the Arts (LACHSA) in the Cinematics Program…and, as you might imagine, I love film and television!! Of course, as is the case with any self-respecting film student, my favorite director is [Quentin] Tarantino!
8. My favorite thing to do in the world is to go to the movies – ideally to double-features! But I also really love fishing with my grandfather, hanging out with great friends in Los Angeles and my hometown of Glenwood Springs, Colorado, and being on set!
9. I spent a year working every week with a coach named Jimmy Love to learn how to dance because I was too embarrassed to try it in a public place!
10. I am a huge Marvel/Star Wars fan and would love to work on either, especially to work with Ryan Reynolds and/or Chris Pratt on a Guardians or Deadpool movie! (Hope someone sees this one, right?!)
Like Just Jared Jr. on FB