Tue, 16 March 2021 at 3:39 pm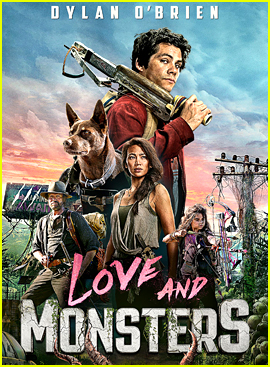 Yep, that's right – Fans will soon be able to stream Dylan O'Brien's film Love & Monsters on Netflix!
It was just announced on Tuesday morning (March 16) that the sci-fi/action adventure comedy will make it's way to the streaming service on April 14th for those outside of the US.
"Enjoy this completely jet lagged & quarantined announcement of #LoveAndMonsters coming to Netflix international April 14th," Dylan shared on Twitter. "This film means a lot to us!!! It's super fun and sweet and has a surprising amount of emojis that pertain to it."
Love & Monsters also stars Ariana Greenblatt, Jessica Henwick, Michael Rooker and Dan Ewing.
Here's a synopsis: Seven years after the Monsterpocalypse, Joel Dawson (O'Brien), along with the rest of humanity, has been living underground ever since giant creatures took control of the land. After reconnecting over radio with his high school girlfriend Aimee (Henwick), who is now 80 miles away at a coastal colony, Joel begins to fall for her again. As Joel realizes that there's nothing left for him underground, he decides against all logic to venture out to Aimee, despite all the dangerous monsters that stand in his way.
Enjoy this completely jet lagged & quarantined announcement of #LoveAndMonsters coming to Netflix international April 14th

This film means a lot to us!!! It's super fun and sweet and has a surprising amount of emojis that pertain to it 🐕🐸🦀🐌🐛🍇💕 https://t.co/n5DXamE0YC

— Dylan O'Brien (@dylanobrien) March 16, 2021

'Love & Monsters' Trailer
Like Just Jared Jr. on FB