Fri, 26 March 2021 at 4:04 pm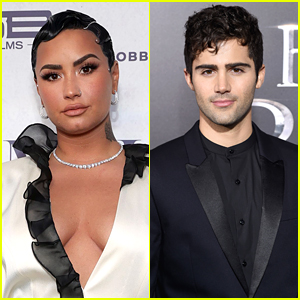 Demi Lovato's upcoming album Dancing With The Devil… The Art of Starting Over is perhaps her most personal album to date.
The 28-year-old entertainer's seventh LP will touch on subjects like her overdose, her sobriety, and even her short lived romance with Max Ehrich last year.
Demi's album features a song called "15 Minutes," which EW reports is a "savagely upbeat banger" that turns Max's clout chaser comments back onto him. In the song, Demi sings, "Good riddance — you got your 15 minutes."
"I really had myself fooled, because it was the safe and expected thing," she told EW about the relationship. "Obviously I cared deeply about the person, but there was something inside of me that was like, 'I have to prove to the world that I'm okay.' Now that I'm not engaged or married and I'm okay, I'm like, 'Wow. Isn't that so much more empowering?' It's not this false sense of security."
"Also, the size of that ring, it made it really real. The second it was off, I was like, 'You know what? I'm good. I don't need that.' I just don't need an object on my finger to make me feel like I've got my s— together," Demi added. "It looks like stability, but it doesn't mean that it is. And I don't actually grow through stability. I find that I like living not in chaos or crisis, but in fluidity. It's not [being] stuck and stagnant in an ideal or a tradition that was placed upon us by the patriarchy."
If you missed it, check out the full track list for the album, and be sure to listen to the heartbreaking title track "Dancing With The Devil," where sings directly about her overdose.
Like Just Jared Jr. on FB