Fri, 09 April 2021 at 7:29 pm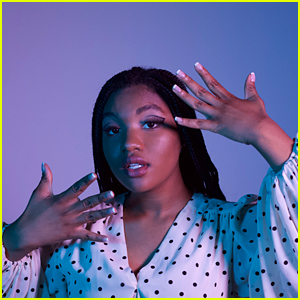 Taylor Mosby stars in the just released new superhero movie Thunder Force!
The 19-year-old actress plays Octavia Spencer's daughter Tracy in the action comedy.
Here's a synopsis: In a world where supervillains are commonplace, two estranged childhood best friends reunite after one devises a treatment that gives them powers to protect their city.
Off screen, Taylor and Octavia developed a special connection.
"Ms. Octavia is really, really fun to work with," Taylor said. "She's so funny and lighthearted, and her laugh is so contagious. You can just see a smile come across the cast and crew's faces when she walks on set."
"But what was really great for me was that she always took time to teach me little things sometimes in between takes. She really worked on our chemistry so that as our relationship grew and we became closer, you see Emily and Tracy's relationship get better for the camera," she added.
"Taylor is just a brilliant talent. She's going to have a long career in front of her because she takes the work seriously. And she's a lot of fun," Octavia gushed.
Taylor has most recently played Tiffany Haddish's daughter Amira on the TBS series The Last O.G. She's also been on Grey's Anatomy, as a young Miranda Bailey, A Girl Named Jo, Criminal Minds and more.
We got to know more about the young actress with 10 Fun Facts. Check them out below and be sure to catch Thunder Force on Netflix now!
1. I have a vinyl record collection of over 150 albums!
2. I have 20 biological aunts and uncles, so I have a huge family.
3. I looove cooking international dishes!
4. Candles and fuzzy socks are my favorite things in the world.
5. When I'm stressed out I always drink apple juice. Since I was little!
Click inside for more fun facts…
6. My comfort movies are The Princess & the Frog and La La Land.
7. My favorite musicians are Jacob Collier, Charlie Wilson, and Sam Cooke!
8. I absolutely hate peanut butter.
9. I play piano and write music in my free time!
10. My favorite flavors of ice cream are mint chocolate chip and cookie dough!
Like Just Jared Jr. on FB