Fri, 21 May 2021 at 4:08 pm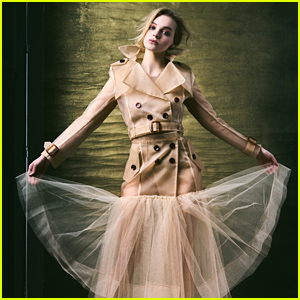 Olivia Rose Keegan is making a splash in the just released episode two of High School Musical: The Musical: The Series!
The 21-year-old Emmy-award winning actress is playing the new girl Lily, who is an energetic East High student whose sweetness masks her highly competitive nature.
In the episode, Lily is introduced and goes up to the East High drama kids in the cafeteria and expresses her love for each of them, as well as their production of High School Musical.
She then comes to the Beauty and the Beast auditions, and shows off her beautiful voice during the warm up, where everyone sings "Belle." See below!
Afterward, after Gina says she thought she had never done theater, and Lily clarifies that she's never done "local theater."
We learn that Lily isn't exactly the nicest person, especially when she laughs after Big Red messes up, and her attitude (SPOILER ALERT) costs her a role in the show. At the end of the episode, she can be seen making a phone call to the rival North High drama club…
JJJ got to know more about Olivia, who won a 2020 Daytime Emmy for Outstanding Younger Performer for her role of Claire Brady in Days of Our Lives. Check out 10 Fun Facts about her below…
1. I was blessed by Carlos Santana from within my mom's womb. When she was pregnant with me, she ran into Santana at a drugstore. He asked her if he could touch her stomach to which my mother obviously replied "yes", so he put his hands on her stomach and said "God bless you and your baby".
2. Halloween is my favorite holiday.
3. My music taste has no pattern whatsoever and ranges from Megan Thee Stallion to The Beatles to Taylor Swift to Bring Me the Horizon.
4. I love rain/snow/cloudy days.
5. I love the show Outlander. I've got a long way to go but I'm determined to perfect my Scottish accent!
6. If I'm at home, I like to stand while I eat which is apparently my "serial killer trait".
7. When I was younger, I thought I wanted to be a professional swimmer and broke a pool record in the butterfly stroke.
8. I'm terrified of deep waters.
9. Over quarantine, I've shamelessly gone down the rabbit hole of astrology. A lot of people think I'm a Sagittarius because I'm right on the cusp, but I was born earlier in the day so I'm actually a Scorpio.
10. I can't whistle.
Catch Olivia Rose Keegan in High School Musical: The Musical: The Series, premiering new episodes Fridays on Disney+!
FYI: Olivia is wearing a Benchellal coat and skirt, with Rey Rey heels.
Like Just Jared Jr. on FB