Wed, 30 June 2021 at 3:00 pm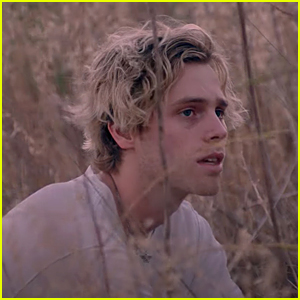 Luke Hemmings has debuted his first solo song "Starting Line"!
The 5 Seconds of Summer musician is releasing his own solo music that spawned during quarantine.
"Starting Line' discusses missing various memories," he shared in a statement. "You're reflecting on your youth and all of the madness and craziness. It's like you're forgetting so many pieces of your life—not from vices or anything—but from the sheer volume. I had to figure out how to fill a lot of gaps for myself in a positive way. It's the human condition to change everything up after so long. A lot of the album deals with the idea time is slipping away from you."
Click inside for more…
In addition, Luke also announced that his solo album When Facing The Things We Turn Away From will be released on August 13th.
"I couldn't be prouder to introduce you to 'When Facing the Things We Turn Away From'; a project that grew out of a year of enforced stillness. I'm so grateful for the journey this album has taken me on and I'm so thankful to have had this creative outlet during my time at home. Lyrically and sonically, this album has allowed me to decipher the last 10 years of my life and help me make sense of the person I am today and how I got here," he wrote on Instagram.
"It will be released everywhere August 13. Today, you can hear a first taste of the album; 'Starting Line'," Luke continued. "Thank you to my brothers in 5sos for your support and allowing me to pursue this project. Endless love to you."
The big solo music news comes just a few weeks after Luke revealed that he got engaged earlier this year!
This is the second solo endeavor from a 5SOS member – Ashton Irwin released his solo album last fall. Don't worry though, the guys are working on their next album as a band!
Like Just Jared Jr. on FB