Thu, 22 July 2021 at 3:25 pm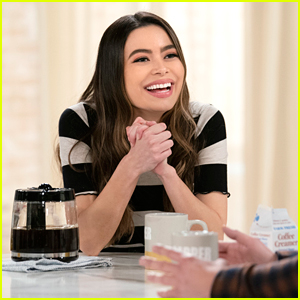 Miranda Cosgrove is opening up about bringing iCarly back!
The 28-year-old actress revealed in a new interview that the reboot was originally pitched in a very different way…
Click inside to learn more…
The show was first pitched as another kid's show with Carly and Spencer running a sort of Hype House from Spencer's apartment, raising a new crop of internet stars.
"I don't think that any of us would have been up for that [idea]," Miranda told Bustle. "What excited me about doing iCarly again was getting to put the characters in situations that we couldn't show before."
When she was first pitched the idea of bringing iCarly back, Miranda made sure to call and check in with her co-stars Jerry Trainor, Nathan Kress and Jennette McCurdy.
"The first thing I did was call Jennette, Jerry, and Nathan," she says. "Many people don't like the idea of revivals, so we were all scared. We didn't want to ruin anyone's childhood memories."
Though the guys were on board, Jennette was adamant on not returning.
"Anything that she wants to do with her life, I just want her to be happy," Miranda said.
With the success of iCarly, it's been picked up for a second season, she hopes that maybe it will give new hope for Lizzie McGuire to eventually make a comeback, the way Hilary Duff wants it to.
"Hopefully [iCarly] will do well, and maybe they'll let Lizzie McGuire be what it was supposed to be, because I would love to see that," Miranda said.
Miranda is pictured here and in the gallery in the latest episode of iCarly, "iLove Gwen," which just premiered TODAY (July 22) on Paramount+, as well as next week's new episode.
In this week's ep, Carly and Millicent (Jaidyn Triplett) push Freddie and his ex-wife back together after a series of misunderstandings lead them to believe the couple wants to reunite. Harper (Laci Mosley) and Spencer get roped into doing tech work on Millicent's school play.
Like Just Jared Jr. on FB