Mon, 26 July 2021 at 5:31 pm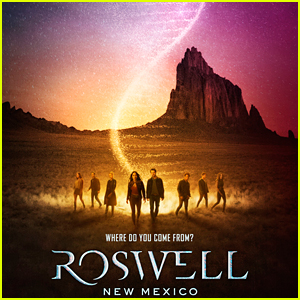 Roswell, New Mexico is finally back for it's third season!!
The paranormal drama returns for the season premiere TONIGHT (July 26) on The CW, and we have all the details and photos right here.
Here's the premiere episode synopsis: While Liz (Jeanine Mason) is settling in to her new life and career in Los Angeles, Max (Nathan Dean), Isobel (Lily Cowles) and Michael (Michael Vlamis) are figuring out if the stranger in the cave, with the familiar face, is friend or foe.
Get more info and see photos inside…
This season, with Max Evans (Dean) coming face to face in the final moments of Season 2 with an alien that looks like him… Season 3 will find him, and his alien siblings, tasked to uncover who exactly this mysteries figure is. meanwhile, we'll find our intrepid Liz Ortecho (Mason) living out her dream job, high paid and changing the world in at a lab in California with an ocean view.
But a series of events will prove that our one-time lover's connection might not be severed for good. Which is good timing, as in addition to a mysterious alien that looks just like Max offers context to why our heroes are on Earth in the first place, a mysterious radio signal begins broadcasting across Roswell, Alex Manes (Tyler Blackburn) finds himself in the crosshairs of a new clandestine organization and Michael (Vlamis), Isobel (Cowles) and Rosa (Amber Midthunder) all begin exhibiting new powers. Confusing things even further is an eerie glimpse Maria (Heather Hemmens) gets of the future…. Someone they love is going to die.
Even though season three is just now premiering, Roswell, New Mexico was already picked up for a fourth season earlier this year!
Tune in TONIGHT (July 26) for the season three premiere of Roswell, New Mexico at 8pm ET/PT on The CW. See all the photos in the gallery!
If you missed it, last summer Roswell lost one of it's key creatives…
Like Just Jared Jr. on FB
Photos: The CW
Posted to:
Amber Midthunder
,
Heather Hemmens
,
Jeanine Mason
,
Lily Cowles
,
Michael Trevino
,
Michael Vlamis
,
Nathan Dean
,
Roswell New Mexico
,
Television
,
The CW
,
Trevor St. John
,
Tyler Blackburn