Tue, 10 August 2021 at 3:06 pm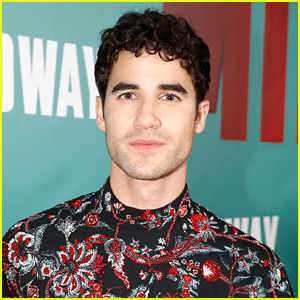 Darren Criss is opening up about the worst Glee cover ever…
The 34-year-old actor, who played Blaine Anderson in several seasons of the show, shared his thoughts on a cringe-worthy number on the latest episode of the LadyGang podcast.
Click inside to see what he said…
"Oof, that's too hard, there's too many versions of songs," Darren shared. "Did I just accidentally say they're all bad? What I meant was there's too many options to choose from."
"There is one that is conventionally understood as a huge oops f–k," he added. "Me being the fu–ing happy go lucky fart that I am, I enjoyed it because I thought it was so absurd."
He then consulted with Becca Tobin, his former co-star and co-host of the podcast, and concluded that "The Fox" (aka "What Did the Fox Say?") by Ylvis was the worst.
"It was so weird," Darren said. "It was one of these 15 minutes of fame for this song and they just decided to put it into the show… I had fun because it was ridiculous. But we were so deep into the show, we were like fourth or fifth season, and we were so delirious from the absurdity of it."
Becca also admitted that some people were pissed that they were doing that song.
The musical number featured puppets and cast members Darren, Jenna Ushkowitz, Kevin McHale, Chord Overstreet, Melissa Benoist, Jacob Artist, Alex Newell, Matthew Morrison, Becca and Blake Jenner at McKinley High, and Lea Michele, Naya Rivera, Chris Colfer and Adam Lambert in the New York setting.
Several other Glee cast members have also said that that was the worst one, including Kevin, Jenna, and Lea. See what they have said on People.
You can listen to the song below and check out the cringey performance on YouTube here.
Like Just Jared Jr. on FB