Thu, 19 August 2021 at 5:11 pm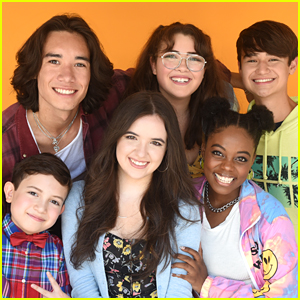 Aubrey Miller has created her very own musical mini-series titled ME!
The 20-year-old Just Add Magic actress will also star in, write and executive produce the upcoming series, which will premiere on her YouTube Channel.
Click inside for more exclusive details…
Here's a synopsis: While on their way to a music retreat, six high school students get taken on a detour that leads them to unlock mysteries, friendships, and the true music inside of them.
"ME is a five episode mini-series about six high school music students who, while on their way to a music retreat, get taken on a detour that leads them to unlock mysteries, friendships, and the true music inside of them," Aubrey exclusively told JJJ. "ME is a show the whole family can enjoy. It's a mix of comedy, drama, and mystery."
"ME also features Dee Wallace from E.T. and Just Add Magic. You'll also see a few more familiar faces from Just Add Magic, including Ellen Karsten (who played Ms. Silvers) and Catia Ojeda (who played Terri Quinn)."
Also joining the cast are Jordan Nataé, Miguel Gabriel (who's also co-executive producer), Gavin Root, Bradyn Jace and Cozette Calderon.
Aubrey has even written original music for the series!
Academy Award-nominated director Jacky Song is serving as director with Just Add Magic's Greg Hobson is the editor.
ME will be out on Aubrey's YouTube Channel this fall!
Keep reading below to find out more about 'ME' from Aubrey Miller…
Just Jared Jr: What do you want viewers to take away from watching the series?
Aubrey Miller: There's a lot of valuable lessons in the show that I hope viewers will take away. Our characters deal with defining themselves through success and titles, but the show tells us that winning doesn't determine who you are. In a very self-centered society, it's important to remember who you are and not let anything take that away from you.
Also, the series teaches us to overcome fear and challenges, and when we stop to listen and work together, we learn the world around us can change for the better.
JJJ: What are you most excited for viewers to see?
AM: Truly everything. There is so much that goes into making a show, and I can't wait for viewers to see every aspect of work that went into it. From the story I created, the characters, the mystery, and the music we made together. The cast is all really close in real life, so I'm excited for people to watch our chemistry develop on screen.
JJJ: What inspired you to create the series?
AM: As a dancer who has grown up on a stage since age four and an actress who has worked on-set since age nine, it was challenging to be thrown into quarantine for a year and a half. Everything around us all came to a stop, but as things started to get back to normal, I thought it would be the perfect time to create, write, and produce a project — an opportunity to bring a group of friends together and do what we all enjoy.
I also really wanted to give the opportunity to new actors who I believe in and a crew who I thought could really bring my vision to life. I have five original scripts registered at the Writers Guild, but I felt it was a great time to open new doors for this family-friendly dramedy. I thought, why wait for someone to open it for me. At age 19, I wanted to write and produce "ME" the series to start this new chapter.
JJJ: How has it felt to bring the series to life? How has production been?
AM: Bringing this series to life has been a dream. From creating, writing, casting, producing, hiring a crew, a legal team, and acting in the show with some of my favorite people was surreal. It started as a very simple idea and quickly blossomed into something so much more significant.
Seeing the story I created play out before my eyes was incredible. I have such a talented crew who supported my vision every step of the way and such a talented group of actors who really brought the characters to life. I feel really blessed to have this incredible group of people involved in the show and God in the center of it all.
ME Cast List
Aubrey Miller – Gia
Dee Wallace – Featured Actress
Ellen Karsten – Mrs. Jefferson
Catia Ojeda – Alex
Jordan Nataé – Harley
Miguel Gabriel – Lucas
Gavin Root – Tristan
Bradyn Jace – Joey
Cozette Calderon – Lilly
Like Just Jared Jr. on FB