Wed, 01 September 2021 at 3:27 pm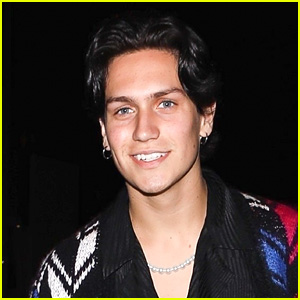 LILHUDDY, aka Chase Hudson, is opening up about haters and those that doubt his talents.
The 19-year-old "Don't Freak Out" singer, who's debut album drops in just a couple of weeks, dished in a new interview about having to prove himself.
Find out what he said inside…
"There's of course people that really want me to succeed, but there's also a lot of people that really want me to fail," Chase told Fault magazine. "I've really been working hard to try prove myself each and every day with each and every song that I put out, and take so much more time on my music, and that's really what I did coming into this. I saw the pressure at stake and I made sure that I worked extra hard to execute everything that I have here."
"I think people always try to dish on people that started somewhere else, or did something different before they started music, and I think I've seen that with a lot of Disney stars and obviously also with a lot of people that have done social media before," he continued. "People always get sh-t at first and everything kind of comes with you really proving yourself and really showing the world that you can do it. Nothing happens overnight."
"I think that I have shown so much already, but I still have a lot to prove to show the world that I can do it – that I can really have a lot of fun *and* have a lot of passion for what I do," Chase added.
He also shared about his new-found challenges in the music industry.
"People like to take every little piece of a song and put you on a scale of 1-10 on how good they think it is or how good they think you are as an artist… people need to lay back and just enjoy the music and not be so tough or challenging on artists, especially new artists that are just starting off or just starting to grow," he said. "Enjoy and watch them develop and feel glad that you're watching and experiencing the journey that every artist is on."
The TikTok star turned singer also opened up about protecting his mental health as a young person on social media and more. Head to Fault-Magazine.com!
In case you missed it, Chase recently released a brand new product line!
Like Just Jared Jr. on FB