Thu, 30 September 2021 at 5:07 pm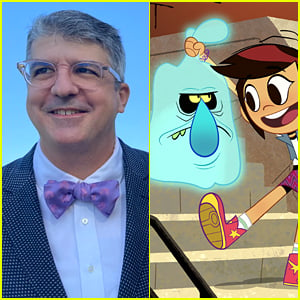 We are getting to know voice actor Dana Snyder, who is one of the stars of Disney Channel's new series The Ghost and Molly McGee!
The incredible voice actor stars as Scratch the grumpy ghost in the new buddy-comedy series.
Keep reading to learn more about Dana and his new show…
The Ghost and Molly McGhee follows tween optimist Molly McGee (Ashly Burch), who lives to make the world a better place, and grumpy ghost Scratch, whose job is to spread misery. When one of Scratch's curses backfires, he finds himself forever bound to Molly. Watch the trailer here!
If you recognize Dana's name or even his voice, that's because he's starred in MANY projects and lent his voice talents to a really long list of projects.
Some of his most popular work includes Aqua Teen Hunger Force (Master Shake), The Thundermans (Dr. Colosso), The Venture Bros. (The Alchemist), LEGO Star Wars: The Freemaker Adventures (Graballa the Hutt), Disney Channel's Fish Hooks (Mr. Baldwin, Bud, Clamantha's Mom and more) and Disney XD's Pickle and Peanut (McSweats).
Ahead of the premiere of The Ghost and Molly McGee, JJJ spoke with Dana and got to know 10 Fun Facts about him that you may have never known. Check them out below!
1. I was born in Easton, Pennsylvania, where they invented Crayola crayons and Dixie cups.
2. I love playing the ukulele, accordion and the alpenschellen (tuned alpine bells).
3. I graduated with a BFA in musical theatre from the Conservatory of Theatre Arts at Webster University in St. Louis, Missouri.
4. I love woodworking and making furniture, but when my daughter was born it was a bit too loud, so I shifted to making things with cloth and now enjoy sewing backpacks, travel bags and wallets for my friends.
5. I am obsessed with Disney theme parks and have been to every one of them around the world at least twice.
6. I love cooking and making things with my seven-year-old daughter, Vivian.
7. I love to run, hike and ski. Being outdoors, in nature, is so relaxing and peaceful that I can't get enough of it.
8. I love playing board games and doing puzzles, both by myself and with my friends and family.
9. I used to do the morning announcements to sell the yearbook at my Junior High School, which put me on the road to wanting to become a voice actor.
10. I spent many years working in regional theatre around the country before I started working in voice over. I believe that type of training in acting, improv and performing in front of people gives a great advantage for anyone wanting to pursue the field of voice over.
The Ghost and Molly McGee, which has already been renewed for a second season, premieres THIS Friday (October 1) at 9:35pm ET/PT on Disney Channel!
Like Just Jared Jr. on FB