Tue, 05 October 2021 at 1:16 pm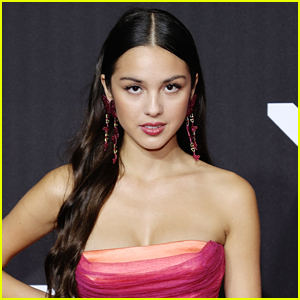 Olivia Rodrigo is opening up about social media and more!
In a new interview with Teen Vogue, the 18-year-old singer-songwriter shared her thoughts on growing up in the spotlight, her dream life and the impact social media has on young girls.
See what she said inside…
Check out what she said below!
On the impact of social media on young girls: "It's so frustrating to see young girls held to a completely different standard than other people. Social media is making it even harder for young girls to grow up. I don't even think it's about me being like, 'Oh, I'm hurt to see people say mean things about me or my friends.' It's really toxic for young girls to open their Snapchat app and see the articles about young women who are just sharing their art and existing in the world, and watching them being torn apart for doing absolutely nothing."
On the realities of growing up in the spotlight: "When you're in the industry, you're sort of treated like a child but expected to act like an adult. That's a really terrifying thought, to think that I'm not allowed to make any mistakes, because I think that's how you grow as a person. I'm no different from any other 18-year-old out there. I'm definitely going to make a lot of mistakes in my life and in my career probably too. That's just life."
On her dream life, and helping others write music: "I think it's so cool to be a part of helping someone else bring their vision to life. That's my dream. That's my ideal life. I just wanna be, like, 30, in a cool midcentury-modern house with, like, two babies and a husband, writing songs that I like, and having brunch with my girls on the weekends."
For more from Olivia Rodrigo, head to TeenVogue.com!
ICYMI: Find out the latest news on Olivia's TV show High School Musical: The Musical: The Series…
Like Just Jared Jr. on FB