Tue, 19 October 2021 at 5:11 pm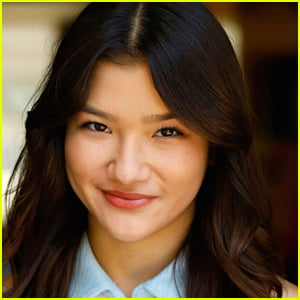 The new movie Honey Girls is out now and we are getting to know more about one of the stars, Frankie McNellis!
The young triple-threat portrays Alex in the film, which follows three young musicians who participate in a talent competition to discover the next great solo artist, hosted by global pop-star Fancy G (Ashanti).
The competitors quickly discover that they are "better together" and form a secret band called HONEY GIRLS that has an immediate viral mega hit! Performing in disguise to avoid detection and elimination by Fancy G, these three competitors must ultimately decide what is more important – fame or friendship.
Keep reading to learn more…
Honey Girls is a Build-A-Bear Entertainment live action movie based on the product line at Build-A-Bear Workshop. The film is out NOW on digital and on demand.
Frankie will also be seen another upcoming movie musical, 13: The Musical, which will debut on Netflix. She will play Lucy in the adaptation of the Broadway musical, a role that Elizabeth Gillies originated on the Great White Way!
We got to know more about Frankie McNellis with our exclusive 10 Fun Facts feature. See what she shared below…
1. My dad taught me how to play guitar when I was 9. I learned on his Strat.
2. I earned my puppy, Elsa, by performing on a stage at the state fair all by myself for the first time. I sang the song "Brave" by Sara Barellies.
3. My favorite guitar is my acoustic Breedlove. I like to think it's my good luck charm!
4. My favorite T.V. show is Glee and one of my dream roles is Rachel Berry!
5. One of my favorite movies that I basically know word for word is Camp Rock! I was convinced that I would grow up and be Demi Lovato's character Mitchie.
6. My very first concert was Taylor Swift's tour RED. It's fair to say I knew every song!
7. I don't drink soda not because I don't want to, but because I was told it was bad for my voice.
8. My dream choreographer that I really want to meet and work with is Kenny Ortega.
9. When I have an important singing job coming up, my mom makes me drink a spoonful of this disgusting black syrup because she "claims" that it will make me sound better. She's not wrong!
10. If I was stranded on an island, I would need my instruments, my phone, and a speaker so I can have a dance party!
Like Just Jared Jr. on FB