Wed, 03 November 2021 at 7:56 pm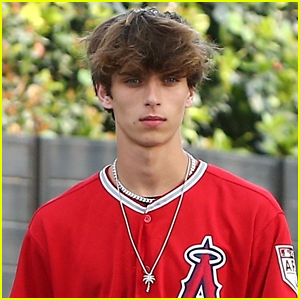 Josh Richards is set to star in his first movie!
The 19-year-old TikTok star and influencer has lined up his first feature through his production company CrossCheck Studios, which he co-founded earlier this year.
Find out more inside…
Josh will star in Halloween Party, a comedy written by Nick Cion and Annie Harnick.
CrossCheck has entered a first look film deal with STXfilms and this will be their first project.
According to Deadline, Halloween Party follows "two friends on the fringes of Hollywood go on a hunt for a crazy gamer's fabled Halloween party. Their chase takes them through legendary ragers, haunted mansions, and the hidden depths of their own friendship as they try to get a taste of Hollywood glamor."
"Josh and Michael [Gruen] are already in business with some of the biggest and most successful content creators and brands in the world, whether it's Walmart or the NHL. The entire team at CrossCheck Studios are among the most innovative, creative, plugged in and impressive group out there today," STXfilms Motion Picture Group chairman Adam Fogelson shared in a statement. "This deal is about working with and tapping into a talent pool and team that develops and interacts with a new generation of storytellers differently than any other production company, agency or legacy company around."
"Adam has been a mentor of mine over the last year and has offered incredible guidance both personally and professionally," Josh said. "I am proud to join forces with him and the team at STX to continue on my journey to tell amazing stories to Gen Z, a truly underserved generation. Together, we will continue to break the norm and show fellow digital natives that anything is possible if you put your mind to it."
If you missed it, Josh has made several investments over the past year and a half, including in this company aimed at teens.
Like Just Jared Jr. on FB