Wed, 17 November 2021 at 4:15 pm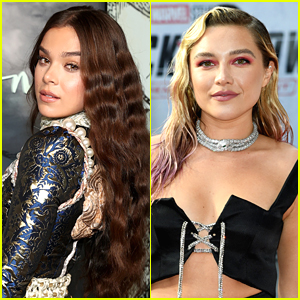 Hailee Steinfeld is revealing what it was like working with Florence Pugh!
If you didn't know, the ladies will be sharing some screen time in the upcoming Marvel series Hawkeye, coming to Disney+ next week.
Hailee stars as Kate Bishop, who takes up the Hawkeye mantel, while Florence is set to reprise her role as Yelena Belova from Black Widow.
In a new interview, Hailee opened up about getting along with Florence.
See what she said inside…
Hailee was asked by Cosmopolitan if she knew right away that she would get along with Florence.
"Oh, one hundred percent. I honestly felt that right away. And I hope to god she'd say the same thing. Jeez," Hailee told the mag. "Now that I say it, I'm like, 'I knew right from the start!' And what if she was like, 'This girl?' No, I think we just had similar energy."
"We had a moment together where we were shooting and something went wrong. There was no recovering from it," she dished. "I started laughing so hard that somebody thought I was crying—I don't know what that says about my laugh—and I just remember a flood of people rushing in and being like, 'Is everyone okay?' And I'm literally facedown on the ground, just hysterically laughing. Mind you, we were in a scene that was in no way, shape, or form meant to be at all funny. We really did have a wonderful time together."
Hailee also dished on what she did when she found out she landed the role of Kate.
"When I found out I got the job, I was actually pulling up to set on Dickinson. My driver got out of the car and went to open my door and I held it shut because it was like, 'I need a moment,'" she said.
"I hadn't gotten a 'you got the job' call in a minute. My mom was on the phone and I started crying in the back seat of the car. I was like, 'Wow, this is so wild,'" Hailee continued. "I was trying to wrap my head around how different it was going to be from Dickinson and how ready but anxious I was about the whole thing."
ICYMI: Check out the latest TV spot for Hawkeye, which premieres on Disney+ on November 24th!
Like Just Jared Jr. on FB