Thu, 16 December 2021 at 1:43 pm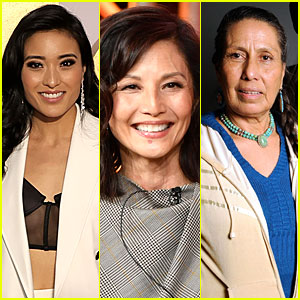 Casting on the upcoming live action Avatar: The Last Airbender series is ramping up!
Five more stars have been added to the cast, including Yvonne Chapman, who you may recognize from The CW's Kung Fu series, where she portrayed Zhilan.
Also cast in the upcoming series, which is currently filming, are Tamlyn Tomita (pictured, center), Casey Camp-Horinek (pictured, right), newcomer Elizabeth Yu and Maria Zhang.
Click inside to read more…
Yvonne has been cast as Avatar Kyoshi, a legendary warrior revered for her bravery, fearsome fighting skills, and uncompromising dedication to the cause of justice.
Tamlyn will play Yukari, Suki's mother and the fiercely protective mayor of her small village on Kyoshi Island.
Maria is Suki, the intimidating leader of the Kyoshi Warriors, an elite female fighting force dedicated to protecting their community and upholding the ideals of their namesake, Avatar Kyoshi.
Casey will portray Gran Gran, Katara and Sokka's grandmother and the compassionate and wise matriarch of the Southern Water Tribe.
Elizabeth has been cast as Azula, the intensely driven princess of the Fire Nation. A firebending prodigy and relentless perfectionist, she'll stop at nothing to secure her position as the heir to the throne.
ICYMI: Find out who else was recently announced to be in the cast!
Like Just Jared Jr. on FB