Wed, 19 January 2022 at 2:43 pm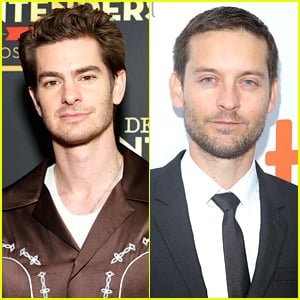 Andrew Garfield is opening up about Spider-Man: No Way Home and working with Tobey Maguire!
The 38-year-old actor lied so well about being in the movie that fans have said that he should win an Oscar for just that.
Andrew dished that lying to his friends about reprising the role (even to Emma Stone!) was like playing a game.
Find out what he shared…
"For me, it was just like playing a game, knowing that the end of the game would be a, a celebration, knowing that the best as if I could play the game to, to the best of my ability, it would give everyone the best opportunity to have an incredibly enhanced, joyful, fun experience when they go to a theater," Andrew said on SiriusXM's The Jess Cagle Show. "And that felt like, again, a kind of thing that I was willing to sacrifice my integrity for and it was, and it was stressful… it was a wonderful thing to be able to, to, you know, who often who gets to play a mass game of, of Werewolf with the internet, uh, it, it was incredible. It was incredibly fun actually."
Andrew also shared what it was like working alongside the first Spider-Man Tobey Maguire, and sneaking into a screening of No Way Home.
"It was so awesome to be able to be present for him being on a film set as an actor again. And especially of course, in that character, because I grew up, you know, idolizing Tobey in that role. And he's a, such a huge part of that character for me, and just being a fan of him as an actor," he dished.
"It felt like Tobey and I were really just working on a relationship between two characters, and using our imaginations and, and playing. It was, it felt very, very playful," he continued. "Like we were kind of two friends, you know, making a little Spider-Man short film and just going, 'Well, wouldn't this be cool? Wouldn't that be cool?' And, um, and yeah, I think he really started to remember, you know, his connection to acting as well. His love of it and his I, and, you know, he, he, there was no, it was as if no time had passed. And the first day on set, when we were shooting, it was just like a first day on set."
If you missed it, Andrew revealed he improvised this line in Spider-Man: No Way Home.
Like Just Jared Jr. on FB