Wed, 16 February 2022 at 2:59 pm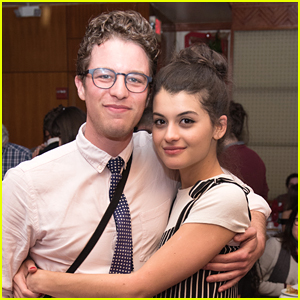 Sofia Black D'Elia is opening up about her October 2021 wedding to filmmaker Henry Joost!
The 30-year-old star of Freeform's new comedy Single Drunk Female made an appearance on Jimmy Kimmel Live on Tuesday night (February 15) and spilled all the tea.
Sofia revealed that she was actually late to their wedding, and that the two aren't even legally married…
Find out more inside…
"It was pretty weird. He did a great job," she said of her dad officiating their nuptials. "We found out afterwards that we actually are not… We didn't do it right. We're not legally married."
"[My dad] did it right, my husband and I, well, my partner and I, we didn't do it right," Sofia continued. "We got like the wrong certificate or something, and we messed it all up. So I've been telling, we like tell people we got married, but I guess technically we're not married."
When asked if they were going to go and take care of it, she replied, "We should, yeah. We definitely should."
Sofia then added how she was the only one late to her own, small wedding.
"I was really late. There was kind of like a crazy accident in the Holland Tunnel (in NYC), and um, I was I think over an hour late," she dished. "I think a lot of people were like, she's in traffic, and it was funny, and then I think quietly [Henry] was actually quite scared."
Watch the video for more from the story!
If you don't know, Henry is a director, writer and producer. He directed Paranormal Activity 3 and 4, Netflix's Project Power, and the Catfish documentary.
Like Just Jared Jr. on FB