Thu, 24 March 2022 at 7:50 pm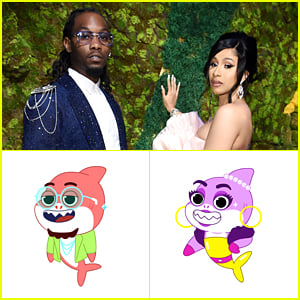 Cardi B is turning into Sharki B for an appearance on Baby Shark's Big Show!
The rapper will be joined by her husband Offset and daughter Kulture for a special episode of the hit Nickelodeon preschool series.
"Make sure you guys and your babies check out Me & my family episode on BABYSHARK series on Nicklelodeon !!!!🦈💙♥️," Cardi B shared on Instagram.
Find out more inside…
In "The Sewaweed Way," Baby Shark (Kimiko Glenn) and William (Luke Youngblood) meet the ferociously fun rap icon Sharki B (Cardi B), who is swimming into Carnivore Cove to perform her splash hit dance craze, The Seaweed Sway. Sharki asks Baby Shark and William to show her around town before her big concert and perform The Seaweed Sway with her on stage that night. As hard as William tries, he keeps messing up the final move of the dance. Luckily, thanks to the help of his friends and his musical icon Sharki, William learns that the true secret to great dancing is doing it his own unique way.
Cardi is of course Sharki B, the biggest star in the seven seas, she's flashy, awe-inspiring, and ruthlessly fun, but always 100% herself and fin-spires other fishies to do the same.
Offset voices Offshark, a cool fish with a great vibe and a huge Sharki fan.
Kulture will voice Kulture Shark, Offshark's three-year-old daughter who is excited to attend Sharki's big concert with her dad.
Cardi will even have her own song for the episode called "The Seaweed Way," and it will be featured on Nick Jr's compilation album Sing, Dance & Sway the Nick Jr Way, which will be out on all digital platforms on April 8th.
You can tune in to Cardi's episode of Baby Shark's Big Show! on Friday, April 15th at 12pm ET/PT on Nickelodeon. Check out a sneak peek here!
In addition, a full length Baby Shark film is coming to Paramount+ in 2023!
Like Just Jared Jr. on FB