Wed, 20 April 2022 at 1:39 pm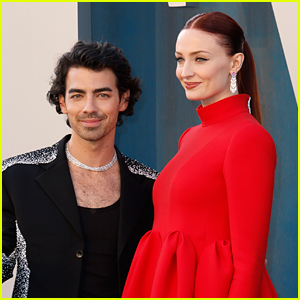 While Jonas Brothers fans await new music from them, Joe Jonas is teasing another new song from his other band DNCE!
The 32-year-old musician took to his TikTok account to share a new video with his wife Sophie Turner.
In the video, she's getting in the car and ready to back up, but Joe is standing right behind the car looking into the camera, singing along to a song, which seems to be titled "Move."
Check out the video and read some of the lyrics inside…
Lyrics include, "All I'm trying to do is make get up out that chair and make you move, make you move. Grab that drink and meet me on the dance floor, baby let's get crazy, move.
Joe recently was on the Spout podcast, and opened up about making music with DNCE again.
"In Savannah (filming his upcoming movie Devotion), I just found so much inspiration," Joe shared. "From the city, the people that I was meeting and also the time that I had on my hands because I was just sitting around waiting to be called the set, well, they don't tell you when you sign up for a film is that you're going to a lot of time off. So whether it be my trailer or back at the house that we were renting, I found myself on a lot of Zoom writing sessions."
"So I was doing a lot of stuff with Ryan Tedder and Jason Evigan, Mike Elizondo and Mickey Echo. So some of the most amazing writers and producers that I really respect. I'm grateful and lucky enough to call friends, and so we would get on Zoom like this or face time and just start working on these ideas," he continued. "It started just kind of like a conversation like, I think I want to make some more DNCE stuff. Let's see what happens. And then it just like you look up and we had almost an album's worth of songs that I didn't know what to do with."
He also added how the song "Dancing Feet" with Kygo was a launch pad for their return.
"It's been the launching pad back into music again as a band. There's no real timeline," Joe said. "It's just let's see how 'Dancing Feet' does and people really love it, which they seem to really enjoy it, and kind of ride that wave and then more to come."
Check out the TikTok with the new music tease below, as well as the whole Spout interview, where Joe talks about Jonas Brothers, fatherhood, and more!
Like Just Jared Jr. on FB