Wed, 11 May 2022 at 3:17 pm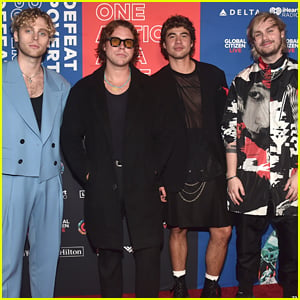 5 Seconds of Summer have released the latest single, "Me, Myself & I," from their upcoming fifth studio album 5SOS5!
The four-piece band – Michael Clifford, Luke Hemmings, Calum Hood and Ashton Irwin – dropped the song on Wednesday (May 11) after announcing the 19-song track list for their album.
"It was very different to the last couple albums, as I'm sure you've heard from a few artists. So we started this album, fifth album, what are we going to do? We can't see each other, now we can see each other. We're going to go away somewhere and be isolated. We made a bunch of music," Luke told Apple Music about the album.
"And then in the process at some point, we wanted to open it up to collaboration and this song came… Well, the first idea came from Jon Bellion and he sent it through and we're like, 'Oh, we love this.' And we worked on it and it was kind of a different… This one was almost like a slight outlier on the album and it took… I don't know, we just had to wrangle it and make it into the fifth album. And it's one of my favorites on the album," he added about "Me, Myself & I."
Listen and learn more inside…
"The song is so weird in the fact that it doesn't really have a chorus and it doesn't really have a verse per se," Michael added.
The day before the single's release, 5SOS revealed all the songs on their upcoming fifth album. Check out the full list below!
5SOS5 Tracklist
1. Complete Mess
2. Easy For You To Say
3. Bad Omens
4. Me, Myself & I
5. Take My Hand
6. Carousel
7. Older
8. Haze
9. You Don't Go To Parties
10. Blender
11. Caramel
12. Best Friends
13. Bleach
14. Red Line
15. Mood Swings
16. Flat Line
17. Emotions
18. Bloodhound
19. Tears
Pre-order the album HERE!
Like Just Jared Jr. on FB