Mon, 13 June 2022 at 1:55 pm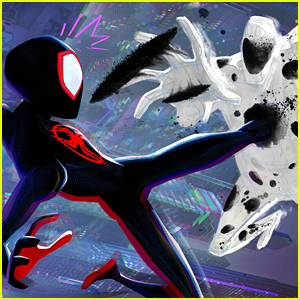 The trio of directors for the upcoming Spider-Man: Across the Spider-Verse Part One have revealed the movie's villain!
Spider-Man will be going up against a villain that has yet to be seen on the big screen, from deep down in the comic archives – The Spot.
Learn more inside…
"For those who are not hardcore canon nerds, The Spot is one of the deepest cuts in Spider-Man's rogue gallery," co-director Kemp Powers said at Annecy, via Variety. "But he has a super-power that really excited our entire team: His entire body is covered in little interdimensional portals that can send him anywhere he wants to go."
The Spot will be voiced by Jason Schwartzman. You can see a first look, rough drawing here, and the design will reportedly evolve throughout the course of the film as the character grows and changes.
"We thought it would be really cool if the portals felt like living ink that had spilled or splattered on the comic artist's drawing," Kemp added. "His very simple power provided endless exciting challenges and permutations for our team."
Spider-Man: Across the Spider-Verse Part One isn't set to release until June 2023, with Part Two the following year.
In "Part One," Miles Morales returns for the next chapter of the Oscar®-winning Spider-Verse saga, an epic adventure that will transport Brooklyn's full-time, friendly neighborhood Spider-Man across the Multiverse to join forces with Gwen Stacy and a new team of Spider-People to face off with a villain more powerful than anything they have ever encountered.
Shameik Moore (Miles Morales), Hailee Steinfeld (Gwen Stacy/Spider-Woman) and Oscar Isaac (Miguel O'Hara, Spider-Man 2099) will return.
Like Just Jared Jr. on FB