Tue, 21 June 2022 at 5:51 pm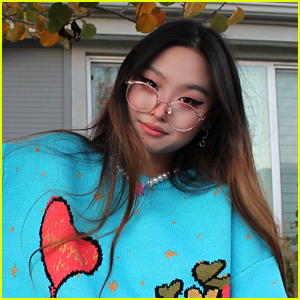 We are excited to introduce Millie Liao to our readers!
The 17-year-old TikToker can be seen starring in the new second season of Brat TV's Charmers, as Fi.
In season two, when Senna (Brooklyn Queen) reunites with her friends for another summer, the coven must navigate friendships, first crushes, and a new more powerful enemy that seeks to exploit their vulnerabilities to undermine their coven.
A new episode just debuted on Tuesday (June 21), and to celebrate, we got to know Millie Liao with 10 Fun Facts.
Learn more about Charmers' new episode and Millie Liao inside…
In the new episode titled "Sleuthing," Clover digs deeper to find out what could be after the coven. Senna deals with the side effects of her new found power. Watch below!
Check out Millie's fun facts now…
1. I am a Chinese American second generation immigrant!
2. I grew up in Novi, which is a really tiny suburb in Michigan. I moved to Los Angeles, California when I was 15.
3. My fandom name is "lillies"!
4. My representative animal is a panda.
5. I was the last member to join the Charmers cast; in fact, I was notified that I had been casted only two weeks before we began shooting the series!
6. I don't have any pets, but I do have a younger brother, Hansen!
7. I love K-pop! My current favorite groups are BTS, Twice, Itzy and Enhypen. I really recommend BTS's Young Forever album, it's my favorite!
8. My go-to Boba order is Thai Tea Crème Brûlée Dirty Boba. It is a Thai Tea with brown sugar coated Boba and Crème Brûlée cheese foam on top. 10000000% recommend, if you try it tag me in a post letting me know what you think!
9. My favorite ice cream flavor is cookies and cream.
10. I have a blog site, "With Love, Millie", where I publish blogs about my life every Saturday! It's also a page full of vlogs, poems, and little snippets of my life! It's also the number one place where I interact with fans. You can check it out and send me a hello message at www.withlovemillie.com!
Like Just Jared Jr. on FB