Thu, 30 June 2022 at 12:31 pm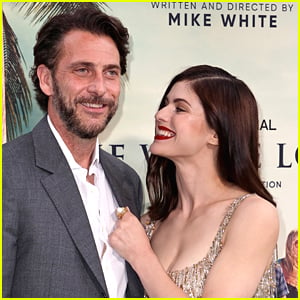 Alexandra Daddario is officially off the market!
The White Lotus and Percy Jackson actress tied the knot in New Orleans with her love Andrew Form after less than a year of being engaged.
Alexandra shared the exciting news on Instagram, along with a photo of the couple, simply captioning it, "👰"
Find out more about the wedding inside…
The couple met during a chance encounter in New York City during a layover.
"I was waiting for my co-op to approve me so I was sleeping on an acquaintance's couch and would take frequent walks," she told Vogue. "He was also on a walk, and we passed each other downtown. He turned back and said 'hi' just as I was turning around to glance back at him. I laughed and said 'hi,' and then we both laughed about how we were the only two people on what is normally an incredibly busy street, and he asked if he could take me to dinner."
As for their wedding, she dished that she wanted to get married in Italy initially, but moved it to New Orleans because that's where she was going to be working.
"My friends Allie and Jake had the most amazing wedding in New Orleans," she told the site. "We were originally going to get married in Italy because I wanted to drink Italian wine for three days straight, but when I got a job in New Orleans I thought of Allie and Jake, and we switched it to New Orleans. It's a city full of music and life."
"We were trying to achieve a laid-back aesthetic," Alexandra said of their venue. "We loved the look of Preservation Hall—it was so old, so historic, it lets its age and 'flaws' show. That's what makes it so beautiful. We wanted it to be about music, drinking, and authentic New Orleans."
"We said vows, cried, and Andrew's children were his groomsmen and ring bearers," she dished. "We wanted to keep the ceremony itself short so people could have a dose of love and then get back to the music and catching up."
Congratulations to the happy couple!!
Alexandra is in New Orleans filming the upcoming AMC series Mayfair Witches, according to Variety.
The series is based on Anne Rice's "The Lives of the Mayfair Witches" novels, and Alexandra plays Rowan, a brilliant doctor who grapples with her fate as the heir to a family of powerful witches.
Like Just Jared Jr. on FB