Mon, 04 July 2022 at 8:59 pm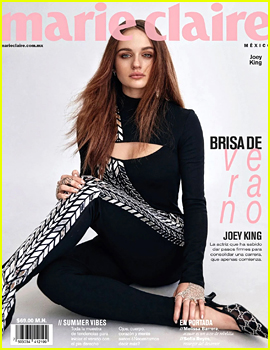 Joey King is featured on the cover of Marie Claire Mexico!
The 22-year-old The Princess actress opened up with the mag about combining her professional and personal lives, what makes her happy, what she likes about her career and more.
On what makes her happy, Joey shared, "What makes me really happy are the moments that seem mundane but are full of life, like doing everyday chores with my fiancé. Those are the things I think about when one of us is away from the other and I miss him. Things that are really simple but have a lot of meaning and perspective, that's the best. And as for hobbies, I love to cook and eat in general. Finding good restaurants wherever I am is my hobby."
See what else she said inside…
On how she's managed to combine your professional career with the daily life of her personal life: "Finding a perfect harmony of the two is very interesting, because when I see articles with my name on it or hear compliments on my work, etc., it seems that people are talking about someone else. I don't know if that makes sense. Like I'm so proud of everything I've done, but sometimes I think, wait…did I really do that? I think that's a good thing, because I live a very relaxed life at home filled with a lot of love and normalcy from the people I care about. So feeling this out-of-body reaction to my running sometimes is really cool."
On what drives her to choose a role: "What really drives me to choose something or let it go is my gut reaction. I'm very lucky to be able to be a bit more picky these days with what I work with, but there's no specific checklist that will make or break my decision. I just have to really believe in it, no matter the genre or the type of character, I just want to feel inspired."
On what she likes about her career: "I love all the roads and trails my career has taken me on. I really found myself in it. I mean, I've been doing this for so long and I've been through all the stages of life while working and discovering who I was as a young person while playing so many different people at the same time, it was amazing. I have created some of the most meaningful relationships with people I have worked with that have become like family. I am extremely lucky to be in love with what I do."
For more from Joey, head over to MarieClaireMexico.com!
ICYMI: See what Joey shared about stunt training for The Princess.
Click through the gallery to see more photos from Joey King's Marie Claire Mexico cover shoot…
Like Just Jared Jr. on FB