Mon, 04 July 2022 at 7:53 pm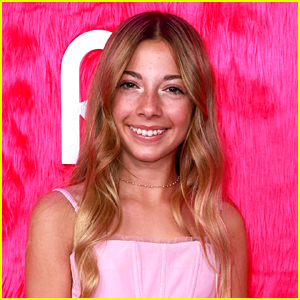 Olivia Jellen can be seen in the new Peacock series Angelyne!
The actress portrays Young Angelyne, aka the younger version of Emmy Rossum's character.
Angelyne is about fame, identity, survival, billboards, Corvettes, lingerie, men, women, women teasing men, men obsessed with women, West Hollywood, crystals, UFOs, and most importantly of all, the self-proclaimed Rorschach test in pink, glow-in-the-dark queen of the universe, Angelyne. Watch the trailer here!
All episodes of the series are currently streaming on Peacock.
We recently caught up with Olivia and got to know 10 Fun Facts about her.
Find out what she shared inside…
Check 'em out below!
1. I love animals so much. People used to ask me what I wanted to do when I grow up when I was younger, and I would tell them I wanted to be a vet and have a shelter so I can rescue animals. I've had 2 hamsters, 2 bunnies, 3 dogs, a cat, 2 ducks and a chinchilla.
2. One of my favorite jobs I booked was In 2018 when I was on stage at the iHeartRadio Music Awards accepting the "Best Tour Award" for Coldplay with my sister and singer Chris Martin. I loved the shiny award so much that I didn't want to give it back so Chris Martin told me that he will send me one to keep. Now I want to work hard and receive my own award.
3. The first Broadway show I've been to was The Lion King when I was 10 months old but my favorites were Mary Poppins and The Little Mermaid. After seeing the Broadway shows, I would watch the movies all the time.
4. I am very sporty and love being in the water. I play team volleyball and enjoy surfing and paddle boarding.
5. My favorite food is sushi specifically spicy tuna crispy rice.
6. I have no fear. I always have to convince my friends to go on the scariest rides at Knott's Berry Farm with me.
7. I love to travel. Hawaii is my favorite vacation destination.
8. I was born and grew up in Calabasas, California, and we also have a house on the beach. I fell in love with living by the ocean.
9. I love art and painting is my happy place. I love gifting my artwork to my parents on Mother's/Father's day.
10. I collect specialty sneakers. Nike Air Jordans are my favorite.
Olivia can also be heard voicing Gizmo on the Disney Junior series Chicken Squad, which you can also watch on Disney+!
Like Just Jared Jr. on FB