Mon, 25 July 2022 at 10:48 pm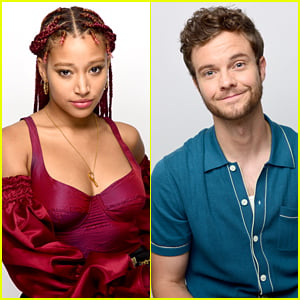 Amandla Stenberg is clearing any tension she may have towards former co-star Jack Quaid.
While at 2022 Comic-Con over the weekend, the 23-year-old actress offered forgiveness to the actor.
If you forgot, or didn't know, the two were in the first The Hunger Games movie together, which was one of Amandla's first roles.
In the movie, Amandla's Rue died in the Hunger Games at the hands of Jack's Marvel, who threw a spear at Katniss, but it pierced her instead.
Click inside to read more…
At Comic-Con, Amandla told Jack, via E! News, "Hello, Jack. It's been so many years, and it's taken me time to recover. Sometimes I still get a jabbing pain through my abdomen and I'm reminded of the time you murdered me. But we all have our faults and I forgive you."
After watching the video of Amandla, Jack jumped up yelling "Yes!"
"Yes, oh my gosh. Thank you, Amandla. Thank you [E!] for letting this happen," he added. "Oh my god, people were spitting on me in the streets for years!"
"I'm very [happy]. I'm getting emotional. It's all good," Jack said.
Watch it all go down in the video below…
In case you missed it, get the latest news on the upcoming Hunger Games prequel movie The Ballad of Songbirds and Snakes, which has started filming.
Like Just Jared Jr. on FB